The president of the Canadian Media Directors' Council shares her thoughts on this year's Cannes Lions festival, an event that showcased the impact of advertising in driving positive change, shaping perceptions and inspiring transformative actions.
Q: Describe the atmosphere at the Cannes Lions festival this year.
A: This year's event surpassed all expectations, leaving a lasting impression. The atmosphere was charged with an undeniable energy. What struck me most was the profound impact of advertising in driving positive change, promoting inclusivity and building successful businesses. It was a testament to the transformative potential of our industry.
The festival itself saw a notable increase in entries, with Canada breaking records, securing 55 Lions and 203 Shortlist nominations. As a mentor to the Young Lions team, I couldn't be prouder of their outstanding performance, winning gold and silver medals and earning a well-deserved spot on the media shortlist.
Canada's record-breaking achievement demonstrates the immense talent and potential within the country's marketing and media landscape. I extend my sincere gratitude to The Globe and Mail for their unwavering support of the Canadian Cannes Lions program and the Young Lions, a commitment that spans 19 years!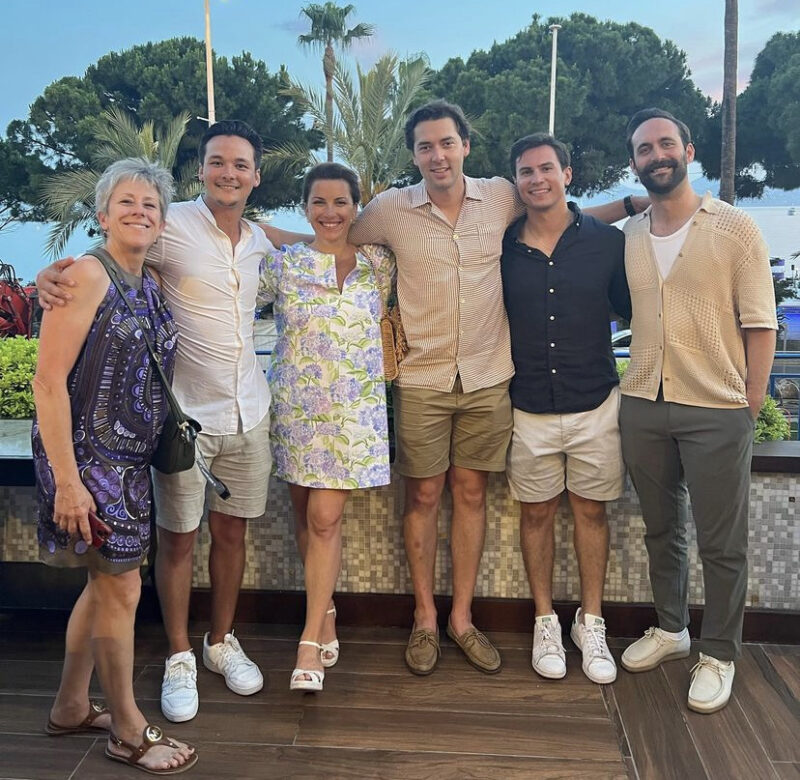 L to R: Karen Howe, Mike Miura, Shannon Lewis, Olivier Houle, Ryan Grippo, Thierry Lessard
Q: What were the major themes that stood out to you? How do they reflect the current trends of the industry?
A: The festival highlighted key themes such as AI, commerce media, CTV, and sustainability. These areas sparked significant discussions and debates among industry leaders, with AI taking center stage. The convergence of these themes signifies a profound shift toward a dynamic and purpose-driven landscape in the advertising industry.
Q: Which theme dominated the conversations?
A: It's clear that AI is no longer just an interesting new tool but rather a game-changer, a renaissance for the media business. One standout moment was Brad Lightcap's, COO OpenAI insightful talk on the essential collaboration between humans and machines in creating unbeatable ideas. The rapid rise of ChatGPT, with a user base surpassing 100 million in just two months, showcases the unprecedented speed at which AI is transforming the industry. The Dream Tapestry project, a collaboration between OpenAI and agency Goodby Silverstein & Partners, further exemplifies AI's potential in providing fresh perspectives on creativity.
While AI presents incredible opportunities and efficiencies, it's crucial to use it ethically and transparently. Open communication about AI's role is vital in building trust and understanding.
Q: So, what does this mean for our industry?
A: It signifies the need to embrace AI innovation responsibly. While AI offers tremendous potential, it's essential to recognize the value of human expertise and the strategic touch offered by agencies. The human element ensures that brands maintain their identity, cultural relevance, authenticity, consistency, and resonance with local audiences.
Q: Tell me about Anheuser-Busch InBev, named Creative Marketer of the Year. How has their innovative approach to marketing earned them this prestigious recognition?
A: One of the most remarkable ideas was witnessing InBev's ability to pivot when faced with Qatar reversing an agreement. They successfully executed a brilliant marketing pivot, showcasing their agility and strategic thinking in collaboration with their agency partners.
Marcel Marcondes, the CMO of Anheuser-Busch InBev, highlighted the creativity of their entire marketing organization. Their commitment to investing in organic growth remains their top priority, and this recognition further validates their excellence in long-term brand-building.
However, it's essential to acknowledge that Bud Light's collaboration with Dylan Mulvaney sparked conversations among marketers at the festival. The brand faced backlash from consumers, which resulted in a loss of market share. This serves as a reminder of the increasing demand from consumers for authenticity and accountability in brand communications.
Overall, Anheuser-Busch InBev's achievements and their ability to navigate challenges demonstrate their commitment to creativity and their dedication to long-term brand-building success.
Q: In light of the increased focus on sustainability in recent years, how did the topic surface at this year's event? Were there any notable trends or developments?
A: Sustainability was a pervasive theme at the festival, permeating discussions, presentations and award-winning work. The urgency of addressing climate change, recognized as the defining issue of our time, resonated strongly throughout the industry.
Ad Net Zero, an organization promoting sustainability, played a significant role at the festival. Major brands like L'Oreal, Unilever and Diageo supported their efforts in decarbonization, bringing transparency and accountability to the forefront.
Notable work exemplifying 'advertising for good' included Mastercard's app for Ukrainian refugees and "First Digital Nation," showcasing Tuvalu's digital transformation amid rising sea levels.
Patagonia's commitment to eco-friendly practices and activism left a remarkable impact. Their dedication, extending beyond financial gains, serves as a powerful reminder that businesses can contribute to creating a sustainable future for all.
Q: What does this mean for our media industry?
A: By embracing sustainability, we not only contribute to environmental preservation but also unlock economic benefits and enhance brand reputation. As media professionals, we have the power to inspire sustainable behaviors. Let's seize this opportunity to drive positive change and make a meaningful difference.
Q: Were there any deals or announcements that caught your attention this year?
A: The Cannes festival is known for major announcements and collaborations. This year, the partnership between Omnicom and Uber stood out as a first-to-market collaboration for Uber. Additionally, Amazon Ads committed to the Ad Net Zero initiative.
The festival also featured a notable brief called "The Big C," inviting creative minds to erase the stigma of cancer in the workplace. It provides an opportunity for all individuals to showcase their work on World Cancer Day in February 2024.
Q: What was trending beyond the Palais talks at the festival?
A: Festivalgoers enthusiastically embraced new trends, such as oversized straw totes, Pinterest 'Maker Workshops,' and an energetic healing lounge at FQ. Snap's AR Disney installation of The Mandalorian also garnered significant attention.
Q: Any lasting observations?
A: The sense of unity displayed by Canadian media leaders left a profound impression. Professionals from diverse sectors came together, forging internal and external relationships. This sense of community and collaboration is a testament to the industry's collective strength and its potential to drive positive change. In order to gain deeper insights, I reached out to members of the CMDC board to gather their perspectives on the industry's collective strength:
"I was inspired to see creativity at the heart of many important tech and data conversations. Technology has become an important lens on how we communicate and will be accelerated with AI. There was authentic curiosity and openness to the benefits that technology can bring to the craft of creative and media. Brands who test and learn with their agencies will see quick benefits in this space." – Noah Vardon, President, Havas Media Canada
"Finally, we see a sense of unity among everyone in the industry. Conferences have become increasingly significant, especially in light of the evolving work landscape that emphasizes the importance and challenges of building relationships and connections. This week, we accomplished some outstanding work by forging both internal and external relationships. It's not just about the Cannes festival itself; it's about the immense power of connections and collaborations." – Alaistair Taylor, CEO Publicis Media
"What is abundantly clear is that our responsibility as marketers extends far beyond traditional boundaries. Our focus is on bettering society, addressing climate concerns, supporting journalism and going beyond. We recognize that our creative power holds the potential to solve real-world issues and ignite pro-social changes that have a lasting impact." – Sarah Thompson, CEO, Dentsu Media
"I found great inspiration in witnessing Canadian media leaders uniting with a shared appreciation for creativity, a collective commitment to making a positive impact (as seen with initiatives like #workwithcancer), and a shared concern regarding Bill C-18. This common ground fosters a strong sense of community and collaboration within the industry." – Christine Saunders, CMO of Publicis and CEO of Starcom
Shannon Lewis is a seasoned executive media leader with over 20 years of international experience in the Advertising, Media, and Communications industries. Her unwavering passion and drive shines through in her role as president and dedicated advocate for the Canadian Media Directors' Council (CMDC).
See all Ideas & Insights