ACHIEVE A GREATER RETURN
ON YOUR INVESTMENT.
Get more from your marketing. Connect to Canada's investors – financial professionals and consumers.
With hope slowly building that the year ahead offers a pathway to recovery, Canadians are continuing to turn to The Globe for help and advice on how to cope with the daily needs of managing their professional and personal finances.
In 2020, we attracted record-breaking readership from Canadians coast-to-coast, emphasizing that Canadians turn to the source they trust the most for unrivalled coverage of the news and events that affect the markets, investments, savings and net worth. And, with the Canadian economy and consumer confidence showing remarkable resilience, we remain the essential resource for people now planning for what's ahead – and the opportunities and challenges within – a recovering domestic and global outlook.
Strong growth in Report on Business and Globe Investor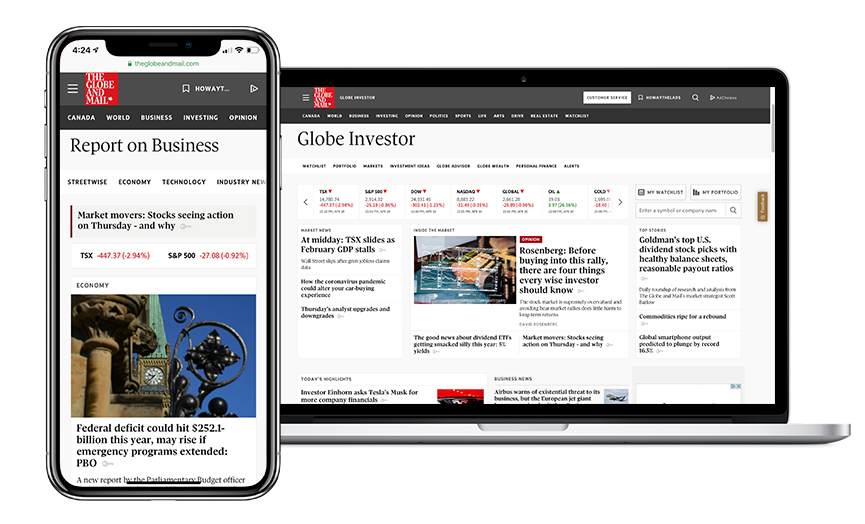 3.7 Million UVs
up 215%
Total views
up 141%
Total minutes
up 191%
Source: Comscore Media Metrix Multi-Platform,
Mar 2020 vs Dec 2019
(Globe and Mail – Business, Investing)
Report on Business is Canada's fastest growing business news site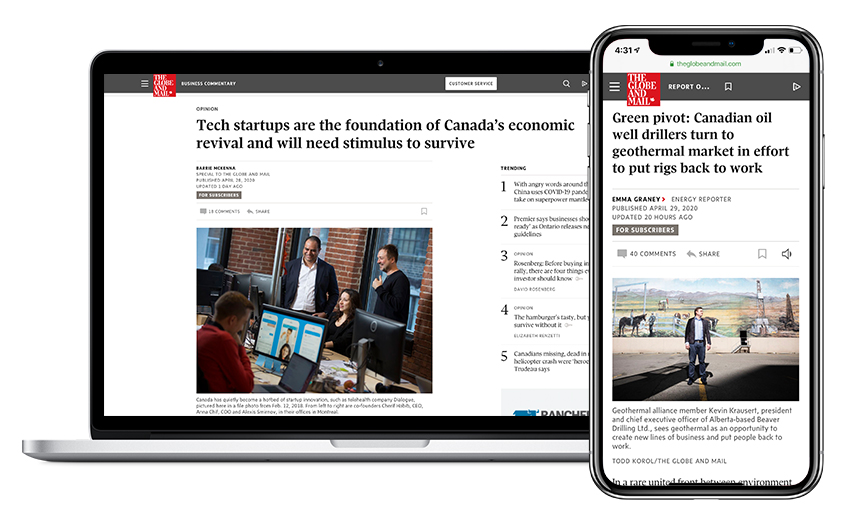 2.7 Million UVs
 up 215%
Total Views
up 165%
Total Minutes
up 223%
Source: Comscore Media Metrix Multi-Platform Bus/Fin/News,
Mar 2020 vs Dec 2019 (Globe and Mail – Business)
The Globe is Canada's largest news brand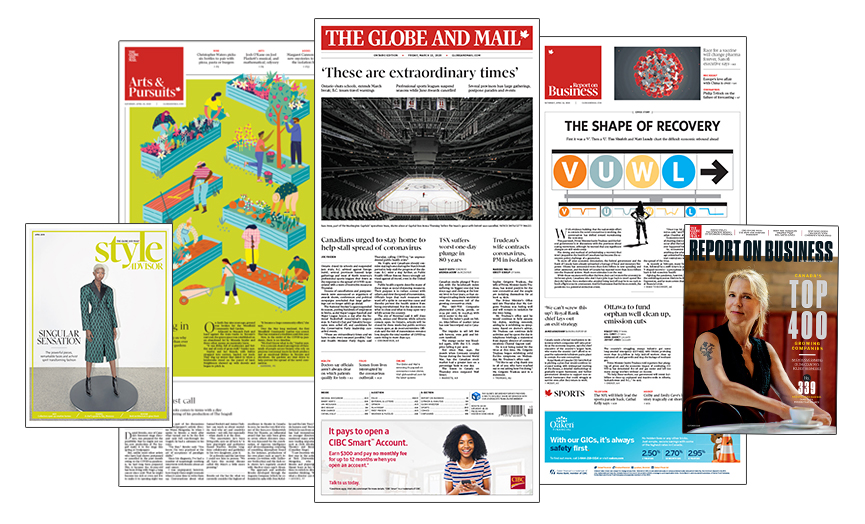 National weekly readership – cume footprint
print/digital is 6.6 million
More readers in all key demographics
MOPEs and Senior Managers/Owners
Business Decision Makers
Business purchase Influencers
Household Income $100k+
A25-54 HHI $100k+
Source: Vividata Spring 2020
Build your marketing strategy
Marketing effectively, throughout the pandemic's many challenges, has been vital in keeping companies connected to Canadian businesses and their customers. As we begin to plan for what's ahead, more than ever, marketers can strategically, tactically and creatively guide the way.
Explore these Globe and industry articles to access valuable insights and perspective, and to help determine the strongest plan for what Canadian business audiences need from you now, and during the recovery phase.
Opportunities to stay connected to Canada
As the hope for a return to normal begins to build, millions of Canadian households, families, professional investment services and personal investors – need to hear from your brands. Your products and services, and your messages about how you provide guidance, opportunity and assistance to Canadians, are more powerful in trusted news environments like ours.
Explore our powerful opportunities for you to stay connected to your brand's audiences, and contact us for expert guidance and flexible marketing options, along with strategic content and creative support for your communications.
Align with our highest-profile sponsorships
Our in-depth Canadian and International finance content includes flagship features that comprehensively explore professional and personal finance topics and interests. Running throughout the year, you can align with our highest profile writers and features to create the strongest connection to your target audience – and achieve your campaign objectives. 
Victoria Day Puzzles and Games sponsorship
Our reader-favorite puzzles & games supplement is coming back for the 2021 Victoria Day holiday.
This special 8-page supplement is a brain-twisting assortment of word, logic and number puzzles. It also includes our signature Giant Crossword puzzle, available to subscribers for download, to print, assemble and enjoy with the whole family.
Get involved by: Friday, April 16
Publication date: Saturday, May 22
Our platforms are ready. We are here to help.
We'll keep you connected to your audiences, across our trusted, in-demand ecosystem that's supporting the needs of your audience and keep them engaged with your brand.
Get complete information about how partnering with the Globe Media Group builds your strongest connection to Canada.