Newspaper inserts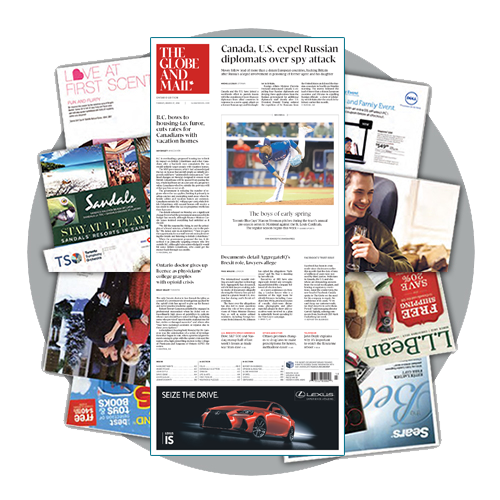 Get your brand
in consumers' hands
Pre-printed newspaper inserts present your message in distinct, stand-alone products that provide complete control of information and creative.
The Globe is the ideal distribution channel to connect with a quality, educated and affluent audience, whether you want to reach our full national circulation or select regions.
Regional and GTA targeting
Regional distribution
Target readers across the Ottawa/Quebec, Prairies, Alberta and British Columbia regions.
Distribute your inserts to our full readership (home delivery and single copy sales) or only home delivery subscribers.
Granular targeting in the GTA
Distribute Monday to Thursday by subzone (subscriber zone) to select neighbourhoods based on postal codes in the Greater Toronto Area.
We can help you reach your ideal readers, using Environics Prizm data, overlaid with our proprietary demographic information.
Special Distribution Products
Ensure your message stands out with our creative delivery products.
Sticky Notes, Sleeves, Tags and Outserts are available on Monday to Thursday to our home delivery subscribers.
Take the next step
For additional information and questions, production inquiries, cancellations or delivery delays, please contact: