HIGH PERFORMANCE MARKETING VEHICLES.
Get more from your marketing. Connect to Canada's most influential automotive consumers.
Throughout 2021, The Globe has continued to provide the vital insight, advice and inspiration Canadians need to navigate the road ahead. And, with the Canadian economy and consumer confidence showing remarkable resilience, we remain your ideal connection to influential, affluent and responsive audiences – the decision-makers and motivated consumers you need to accelerate your sales.
Own our highest-profile partnerships
Looking to harness the brand and audience building power of The Globe for your brand? Stand out in our flagship sponsorships that feature our unmatched Canadian and International finance journalism, aligning with our highest profile features and writers – or collaborate with our Globe Content Studio, to create exceptional custom content that builds the strongest connection to your target audiences, and ensures you achieve your marketing objectives.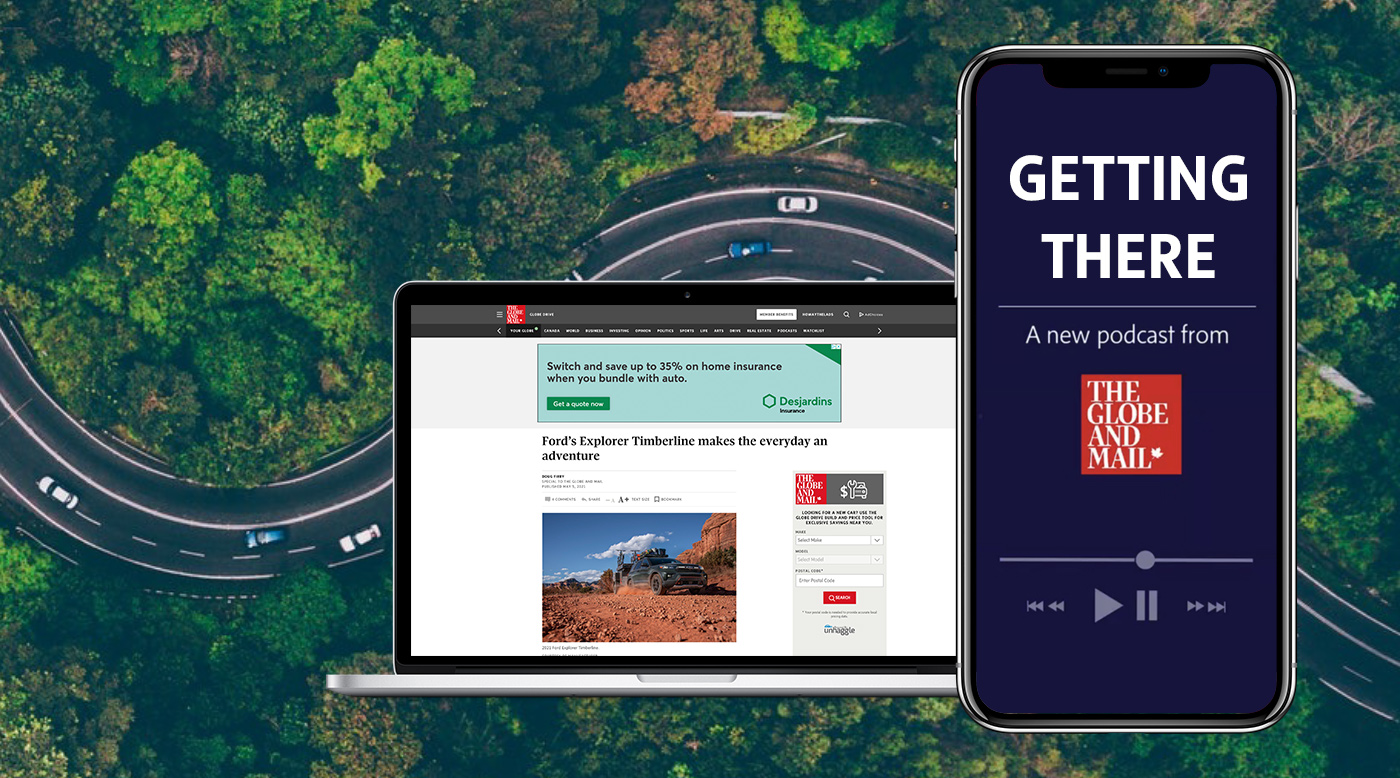 Globe Drive: Getting There Podcast
Crafted especially for Canadians who love to explore and are dreaming and planning for their next epic road trip, this custom editorial podcast will explore the themes of journeys, destinations and the process of getting there through personal narratives, reported stories and interviews.
Custom Globe Content Studio programs
Partner with us to create high impact content marketing – powered by Globe journalism – custom developed to bring your brand narrative to life and deliver against your KPIs.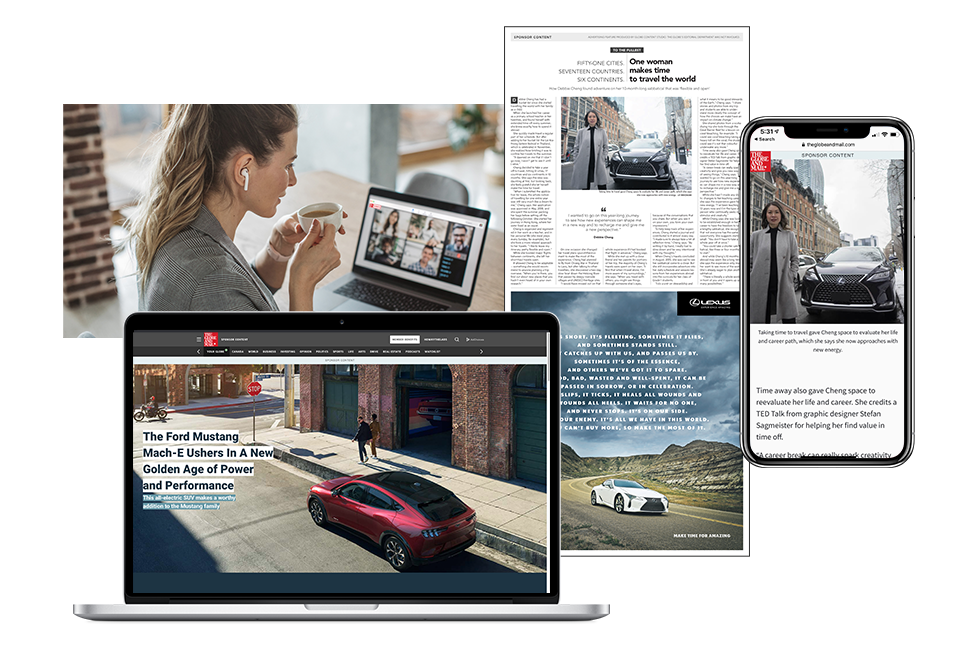 Build your brand influence with Globe sponsorships
In the most challenging of times, our journalism has been in massive demand across social, business and political life. Simply put, The Globe is an essential resource for engaged and influential Canadians – and your vital connection to them. Explore these sponsorships to take full advantage of our unmatched ability to build deep B2B and B2C connections across our digital, print and event platforms, and make the difference in your marketing performance.
Your audiences are here
Become connected to your highest value prospects, across our trusted, in-demand ecosystem that's continuously supporting the needs of Canadians, and ensuring they stay engaged with your brand.
Don't miss out. Get valuable insights and opportunities in your inbox.
Drive your marketing performance 
Achieve exceptional marketing impact with our unique combination of audience, technology, content and creative capabilities. Leverage our data-driven insights, storytelling and design abilities to position your brand at the centre of world-class content and at the heart of Canada's most influential audiences.
Get the best response to your marketing.
Globe Response performance programs deliver on your KPIs, with our unique ability to create rewarding connections to Canada's premium audiences across your marketing funnel.
We'll deliver the more of the prospects to your site and stores that you need – powered by our exclusive audience data, across The Globe, Alliance sites and our premium network.
Stand out in outstanding creative.
Our creative capabilities help you grab attention, deliver rewarding content and compelling messaging – to achieve the strongest response and marketing impact.
Partner with our full-service Globe Creative Studio to build highly-effective ads, in digital, print and beyond, with features like e-commerce and social integration, designed to achieve exceptional consumer engagement and sales performance.
Explore our creative capabilities gallery
Get complete information about how partnering with the Globe Media Group builds your strongest connection to Canada.