Our reputation for editorial excellence means our readers hold us to a higher standard than most media companies. It also means our marketing clients also expect excellent performance from their programs. With the bar set so high, we bring the same rigour to your content marketing programs that we do to our newsroom reporting. 
They're brand-safe. Focused content attracts readers whose have an active interest in specific topics and, by association, builds their affinity for your brand. This focused content also means they are brand-safe, and you won't have to worry that your brand is running adjacent to content that's inappropriate.
They deliver results. Advertising in specialized content is one of the most effective ways to reach new customers, to establish your brand as a leader in your industry and to provide readers with useful information that helps them make better decisions. We regularly hear from clients that The Globe's audience responds very well to quality content that's published for their brand to align with, in print and online.
Throughout the year, our team delivers turnkey features for clients who want to be aligned or integrated into great content. With a pre-planned schedule, they're easy to buy and barriers to entry are lower for clients who may not have big budgets. 
We continually introduce fresh and relevant B2B and B2C themes that reflect the dynamic world we live in. Some of our most popular topics include: business and finance, real estate, travel, health, technology, education and the arts. We also deliver a number of seasonal and holiday-based lifestyle content, including Black Friday, Cyber Monday and Boxing Day.
Work with our Globe Content Studio to develop effective content programs – created for your brand sponsorship and developed to deliver results for your marketing funnel. Each program is crafted to feature a potent mix of editorial and advertorial – and can include Paid Posts, content created and presented from your brand, in our platforms.
Tell your unique story across platforms, within powerful marketing programs that extend into more complex projects like videos, podcast series and events.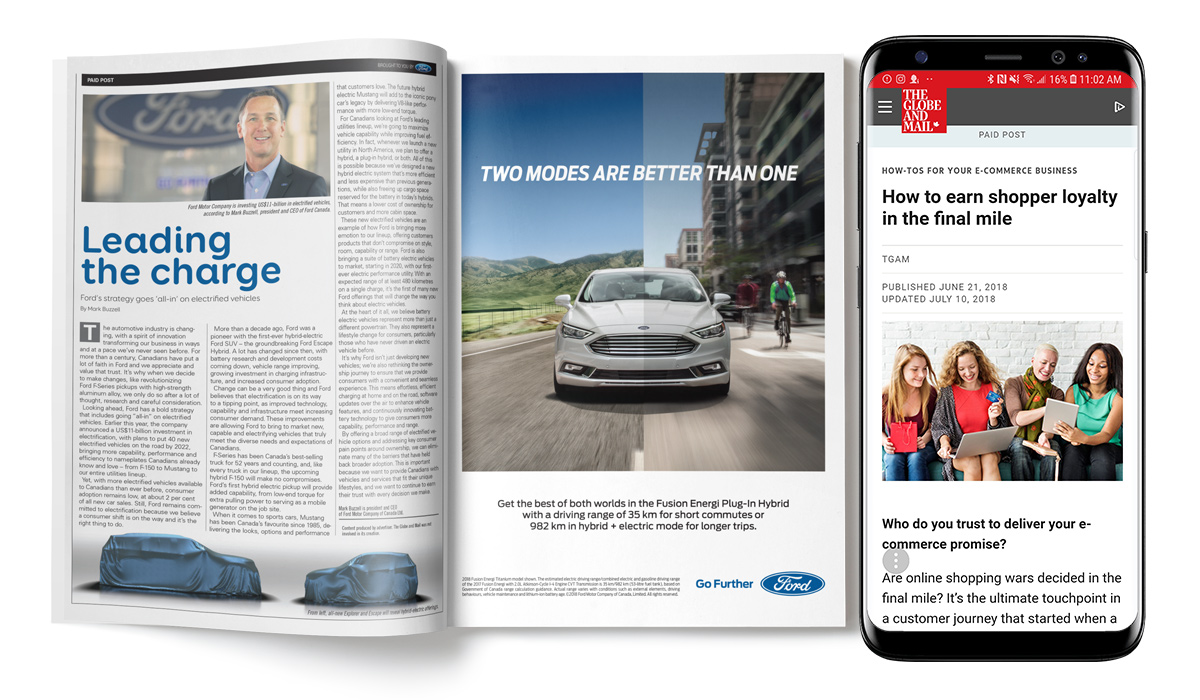 Globe-hosted content that's written and supplied by our advertising clients.  Content is labeled as "Paid Post" and must meet Globe standards for quality. 
Get complete information about how partnering with the Globe Media Group builds your strongest connection to Canada.