HELPING CANADA.
SUPPORTING YOU.
Updates for advertisers from The Globe and Mail
Keeping Canadians informed
Like millions of others, you may already be coming to The Globe for the vital information, perspective and advice on how to cope with the personal and professional challenges we're all facing. 
In addition to massive demand for our news, business and investing coverage, we're also seeing an unprecedented appetite for personal finance, parenting, arts and entertainment content. We're providing high value for people of all ages and interests – helping us adapt to the new normal of physical isolation and working from home.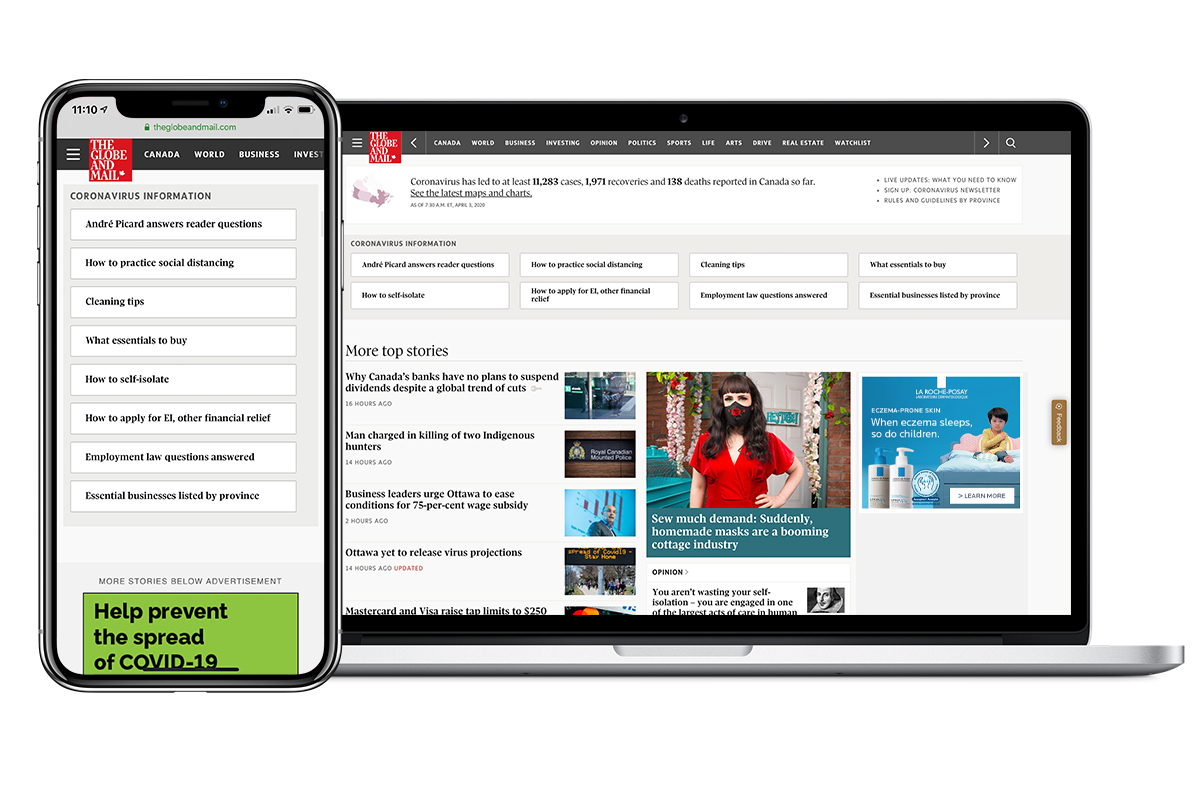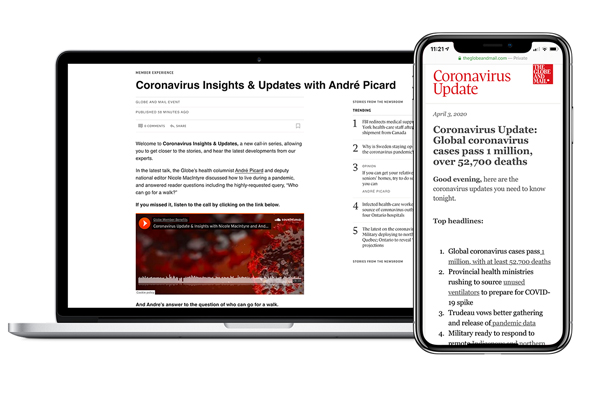 We've also launched Coronavirus Insights & Updates, an open, weekly call-in series, featuring Editor in Chief, David Walmsley, Globe Editors and experts Nicole MacIntyre, Deputy National Editor and science reporter, Ivan Semeniuk.
Explore The Globe's extensive coverage
Your essential connection to Canada.
In 2020 we saw record-breaking engagement from Canadians coast-to-coast, emphasizing that, when facing a crisis, Canadians turn to the source they trust the most.
The Globe was the fastest growing Canadian news publisher
9.1 Million Unique Visitors – up 50% (87% are mobile)
Total Page Views up 33%
Time Spent (total minutes) up 85%
The Globe Alliance network added 11.3 Million more Unique Visitors to The Globe, making us the 3rd largest News & Information publisher overall, reaching 19.5 Million Canadians.
Source: Comscore Media Metrix Multi-Platform, Jan-June 2020 vs. Jan-June 2019
Our newspaper home delivery circulation has been on the rise. In-depth and informative, our coverage strengthened our readership and quickly attracted new audiences. Subscriptions are the core of our business, highly valued by readers and we have the highest subscription rates of any publisher in Canada.
Our platforms are ready to ensure you stay connected to Canada. Our team are here to help, and to provide flexible options for your communications, providing audience insights and recommendations to help manage your messaging effectively.
Get complete information about how our platforms and products will keep you connected to Canada.