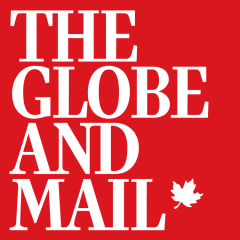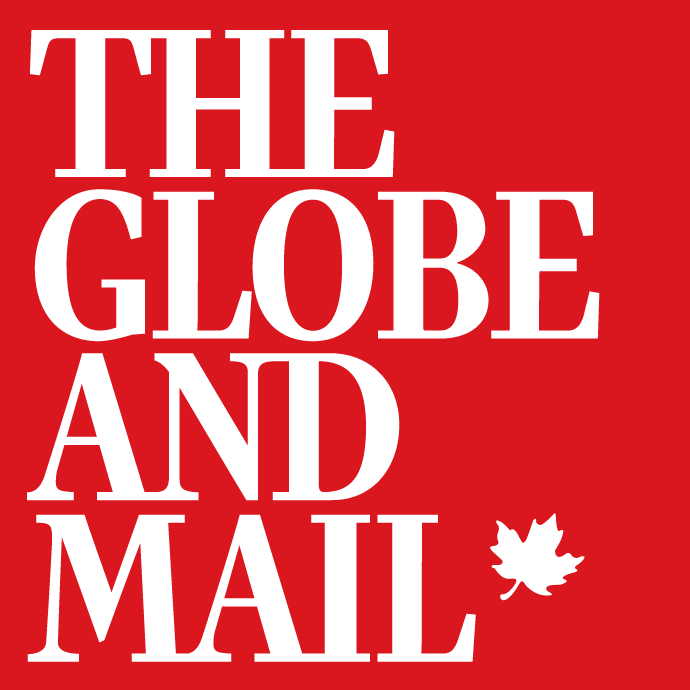 Even in the most challenging of times, The Globe's extraordinary journalism has remained consistently bold, courageous and uniquely influential across social, business and political life.
It's why we are an essential resource for engaged Canadians – when quality journalism is needed more than ever – and your vital connection to them.
Open today's paper, and you'll see how our innovative technology has created new ways of looking at the world. Designed for an audience who dedicate focused time with their Globe each day, our newspaper is guided by Sophi – our proprietary audience data insights – focusing content where readers are most engaged, and advertisers most seen – creating both broader audience reach and deeper engagement.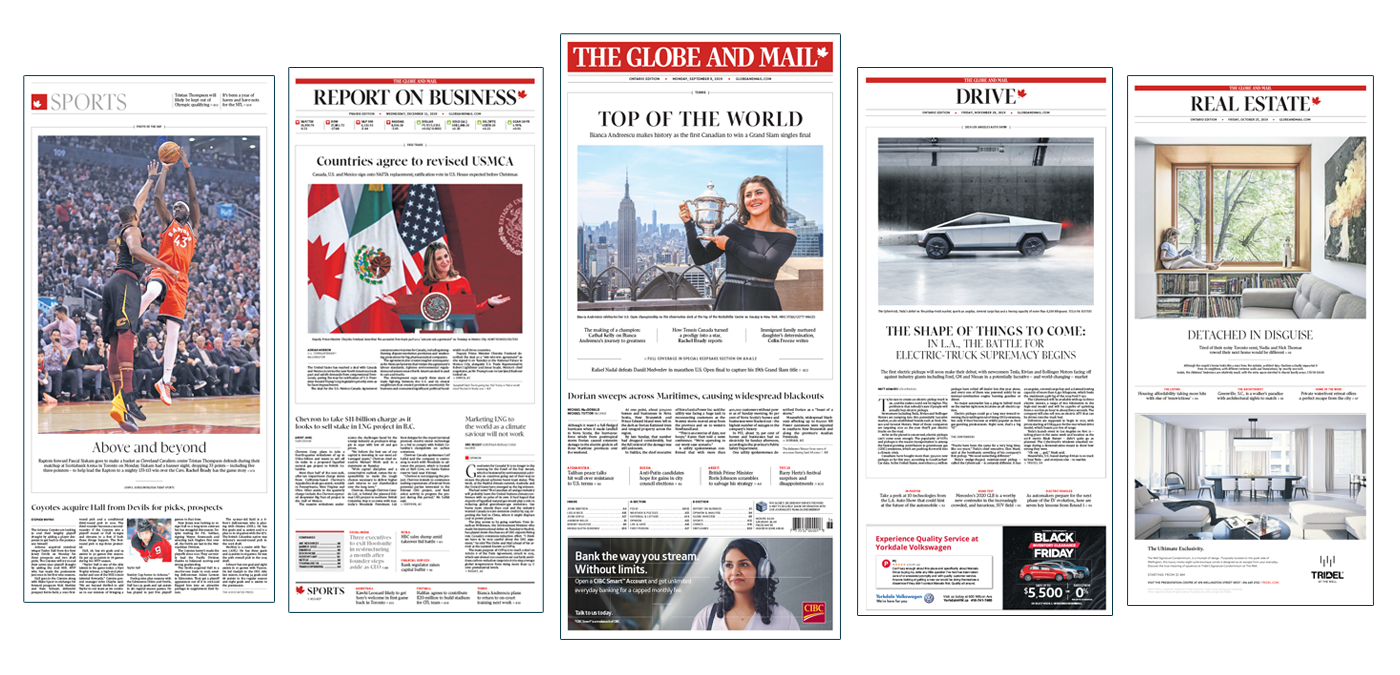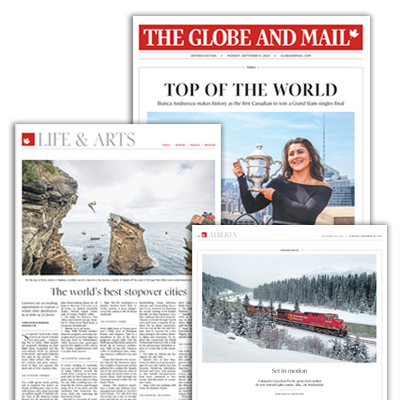 Reflecting the diverse interests of our audience, we deliver an engaging flow of stories and features in our most-read section.
News presents a captivating and richly visual mix of international, national and regional news – with dedicated Toronto and B.C. pages – along with lifestyle content, each day.
On Friday, we get readers ready for the weekend, adding our popular Drive and Real Estate sections.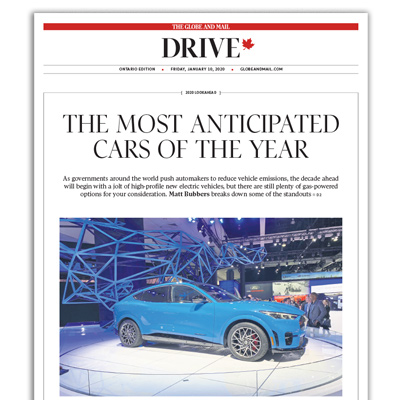 Runs in our Metro edition
An engaging mix of technology, new drives and comparison road tests
Bold visual design
Reflecting the focused time our audience dedicates to reading over the weekend, our newspaper expands to six sections: News, Business, Sports, Opinion, Arts & Books and Pursuits, our engaging weekly mix of lifestyle content.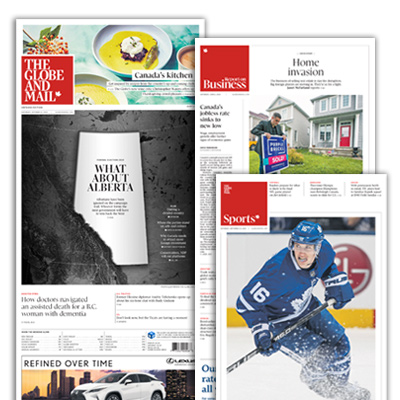 News, Report on Business and Sports become standalone sections, reflecting the focused personal time readers dedicate to reading over the weekend.
News retains its 8 glossy pages
Report on Business adds 8 glossy pages for lead stories and premium ad positions
Sports features 4-pages of glossy on the outside of the section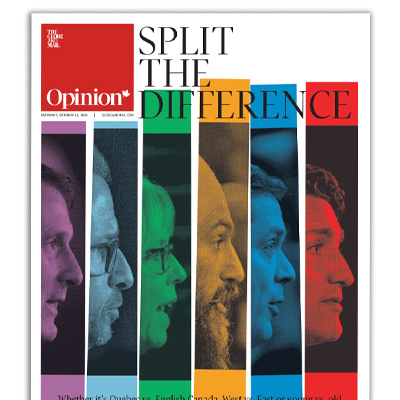 Opinion is our platform for deep analysis, insights and ideas for the world.
Highly popular, both in print and online, it's home for our authoritative columnists and the strongest opinions – in-depth editorials and reader letters – on the big issues for Canadians coast-to-coast.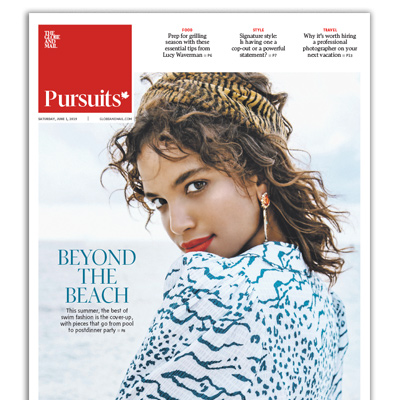 Our readers have a wealth of interests, passions and obsessions – and they want to feed these interests and to be inspired by new ones.
Our Pursuits section presents a vibrant mix of Style, Fashion and Beauty, Home Decor, Travel, Society, Food and Wine, along with Puzzles, Games and Horoscopes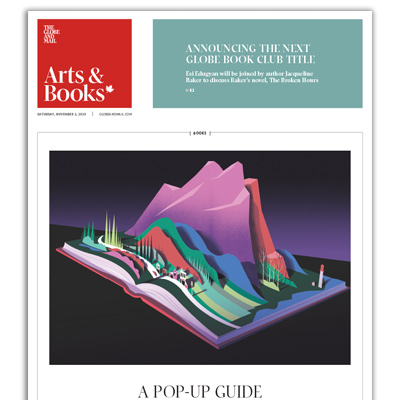 On the weekend, our Arts coverage expands into a dedicated section and continues our diverse portfolio of culture, from music, theatre and film to architecture and literature, with Canada's largest pool of arts reviewers.
Connect to Canada's influencers
Reach your ideal consumers through powerful contextual placement alongside trusted, engaging and relevant editorial features and journalists, and deepen engagement through custom content.
Leverage custom editorial and advertorial features to position your brand at the centre of world-class content and at the heart of our influential audience.
Choose from our pre-planned opportunities and work with award-winning content marketing experts to bring the power of our journalism to your full-funnel marketing programs, enhancing credibility, brand perception and achieving your KPIs.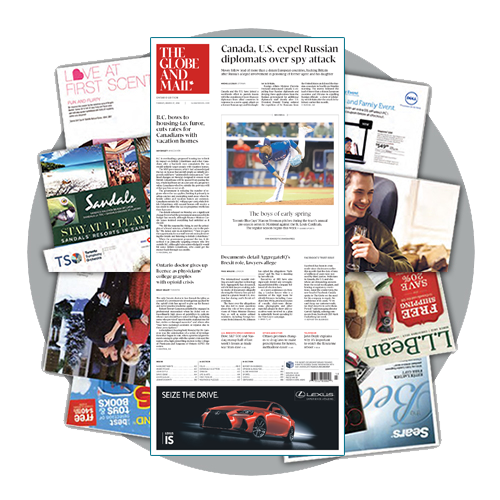 Globe Inserts
The Globe newspaper is the ideal distribution channel to connect with our influential, affluent and responsive audience.
Present your message in distinct, stand-alone marketing products and distribute to our national circulation or select regions.
Advertising specifications
Get all the details to create great advertising
Looking for creative inspiration? Ready to build your ads?
Please explore our production specifications, before you do.
Get complete information about how our platforms and products will keep you connected to Canada.