By Norm O'Reilly, T1 and University of Guelph
The COVID-19 pandemic has presented serious health risks and affected sport, arts, festivals and entertainment events around the world. In many cases, these events had sponsors who provided them with resources in return for marketing benefit. COVID-19 has resulted in the vast majority of these offerings being cancelled or postponed. From the Olympic Games to local music concerts, these cancellations or postponements have impacted sponsorship and caused brands to reassess spending and even whether they want to sponsor at all. All organizations are adjusting to this new normal and are trying to figure out ways to salvage their sponsorship activities.
In an effort to learn more about this dynamic, SponsorshipX, a global intelligence hub for sponsorship marketers, conducted a two-phase online survey and analyzed the data collected. The first survey gathered data from 289 sponsorship professionals between April 6th and April 14th, with the follow-up garnering 201 responses between May 15th and May 25th. Respondents came from 12 different countries and represented brands, properties and agencies working in sponsorship. Topics such as return to normalcy, a shift in sponsorship priority, impact on sponsorship budgets, new platforms explored due to COVID-19, and opportunities for sponsorship were covered, revealing a number of lessons, recommendations and ideas that were shared in two well attended SponsorshipX webinars. Amongst the many results generated, three in particular are most noteworthy.
First, industry experts forecast an ever-lengthening return to normal. In round one of the survey, the most common estimate of a return to 'normal' was September 2020, but – just a few weeks later – this shifted to January 2021, with about a quarter of respondents suggesting a late 2021 timing.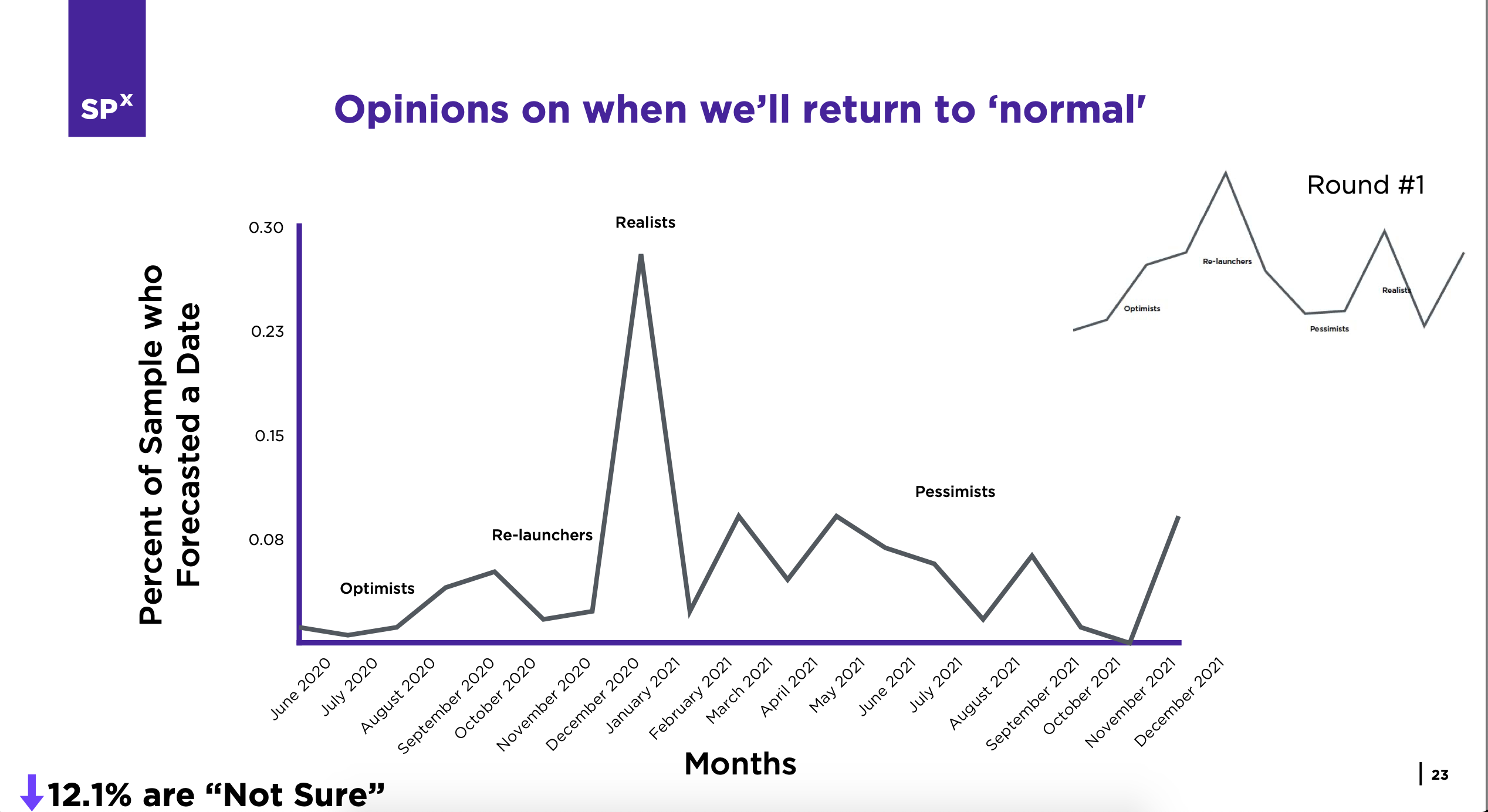 When asked why, common answers included the need for a treatment to be found, time required for sponsorship budgets to return, and the inappropriateness of aggressive marketing (or sponsorship) while a pandemic is going on. In delving deeper into these forecasts, a cluster analysis identified four groups in terms of their forecasting, that we called optimists (return in the next few months), re-launchers (fall 2020), realists (January 2021), and pessimists (remainder 2021 or later). In the second phase of the survey, 56% reported being pessimists, while only 2.3% were optimists. Clearly, we need to plan for the long haul here as noted by one respondent who said that "social habits will change. It will take a while for any event/platform, except the digital world, to find its role after COVID-19."
For those seeking sponsorship, the study results found a major shift in the priorities of sponsors. Both rounds of the study showed a clear and overwhelming change in sponsorship to focus on properties such as COVID-19 relief, food insecurity, front line workers, and mental health. In the second round, the number one priority shift was to mental health, suggesting that many sponsorship professionals are observing this to be the most important focus of sponsorship as COVID-19 continues, but more in terms of supporting efforts related to mental health as opposed to marketing around the issue, as clarified by one respondent who added that "with more and more out of work, the rate of food insecurity is rising and more of a need to support food focused organizations."
In a more positive finding, the results suggested a number of innovations, opportunities and directions that sponsors, properties and agencies can take as we return.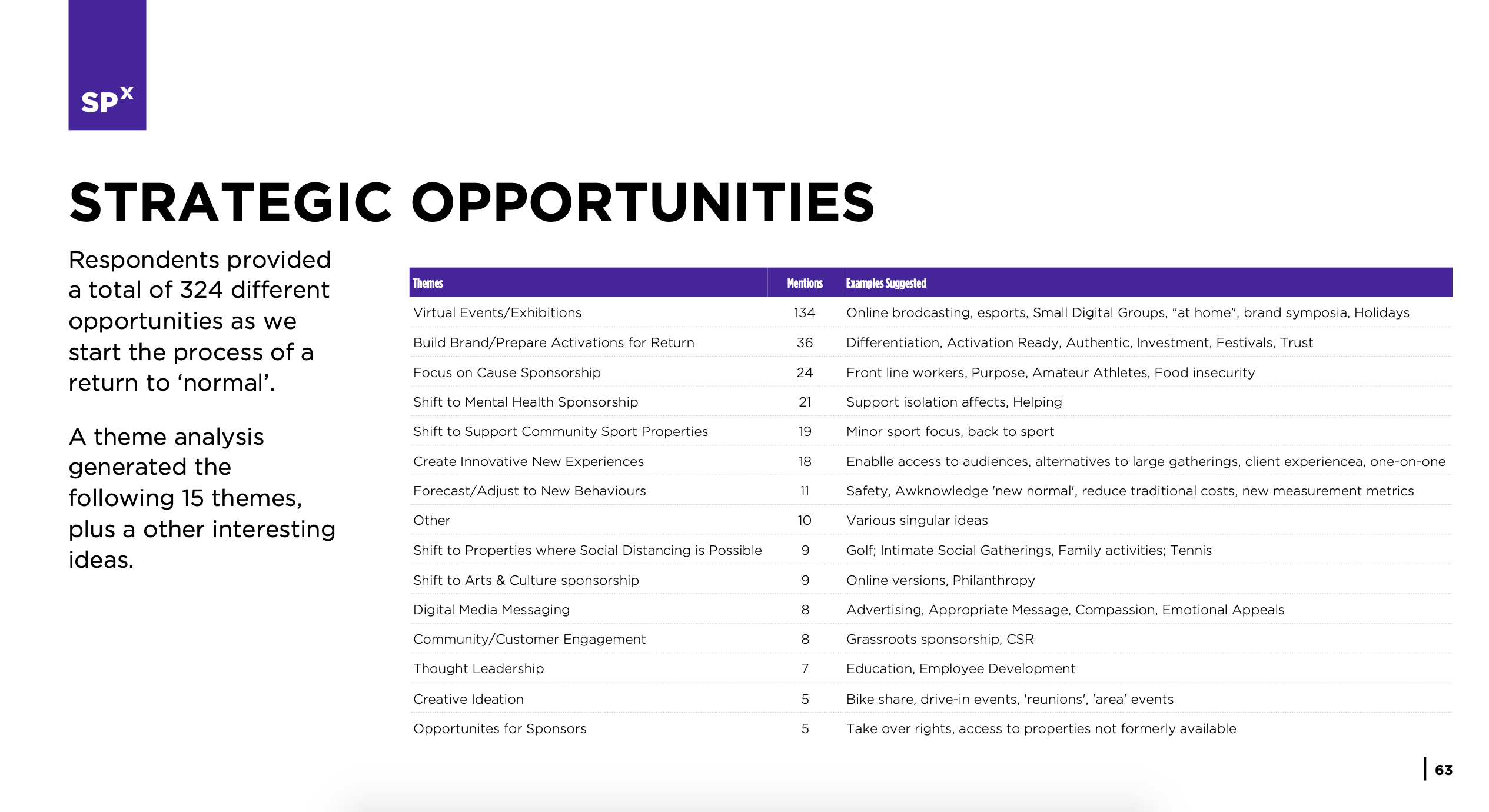 As one might expect, many of the suggestions were about enhancing social and digital media, streaming, esports, creating virtual events, and using virtual technologies (e.g., Zoom). Specific to esports, although only a small proportion of practitioners (about 12%) reported using esports, those who do, have expanded use extensively during COVID-19, while some (18%) noted that they have started to investigate esports due to COVID-19. In terms of ideas to pivot during COVID-19, respondents are offering hundreds of ideas to properties, but were also overwhelmingly (62%) clear that there is nothing wrong with waiting and planning for a return, and avoiding taking undo financial risks or forcing virtual offerings when they do not make sense for your offering or your brand. One respondent summarized it well, by stating "relax, plan ahead for a year down the road."
In summary, per the input of sponsorship professionals, we are in a most challenging time for many industries, including sponsorship. If it makes sense, they advise, look to pivot in a virtual way, but, if not, hunker down, save your resources and wait out the storm. Things will return and, even over the one-month difference in the two data collection periods (end of April 2020 and end of May 2020) of this study, consumer mindsets had changed significantly. Now is the time to plan, to consider supporting mental health initiatives, and to build your brand with your key stakeholders and customers even while revenues fall.
Those who invest in their brand, support COVID-19 relief efforts in a philanthropic way and focus on the long term will survive the pandemic and thrive after it passes. All sponsorship practitioners are recommended to use this time to innovate, build and create beyond social media channels and digital delivery to develop innovations to drive sponsorship during and beyond the pandemic.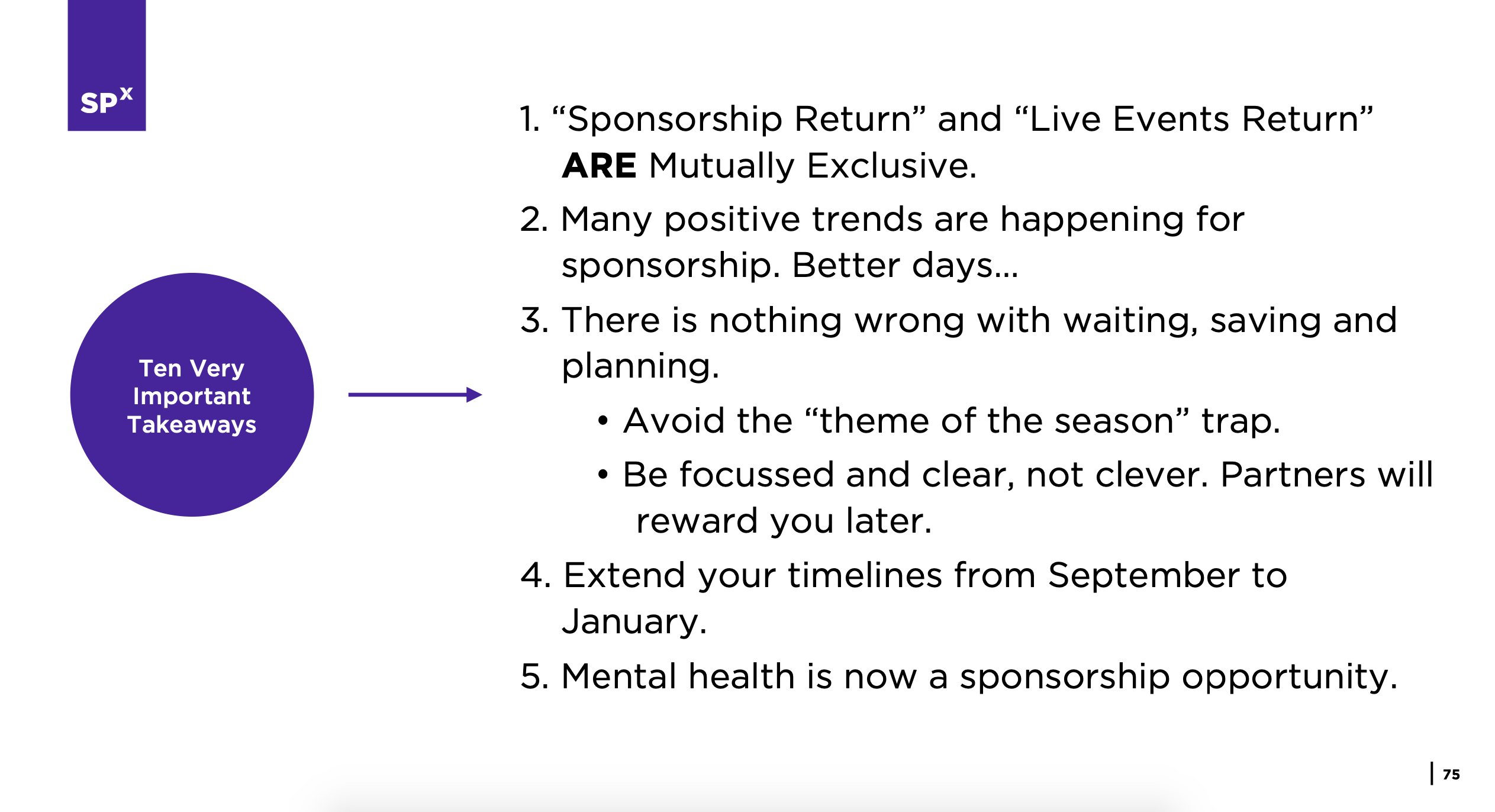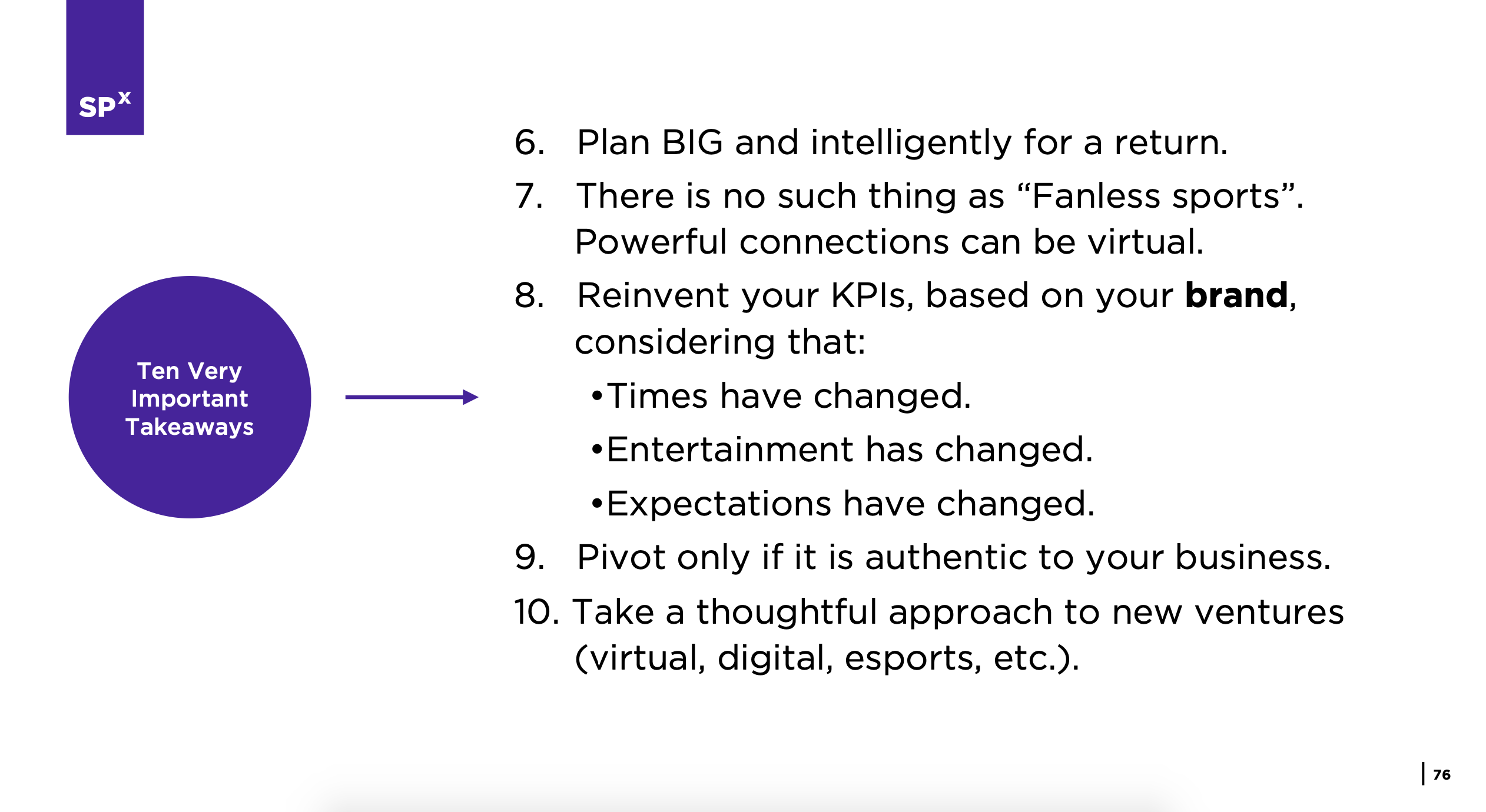 ---
For over 15 years, SponsorshipX has been connecting the sponsorship marketing community through curated content, sessions and immersive experiences. From gathering leading industry speakers, to launching proprietary industry research studies, to forming partnerships with some of the biggest event properties in the world, SponsorshipX represents a global hub for sponsorship intelligence, bringing together sponsorship marketers around the world live and virtually.
---
T1 are a member of the Institute of Communication Agencies. Report on Marketing is where leading Canadian agencies showcase their insights, cutting-edge research and client successes. The Report on Marketing provides a valuable source of thought leadership for Canadian marketers to draw inspiration from. Find more articles like this at the Report on Marketing.
See all Ideas & Insights