Proprietary research by TBWA reveals the cultural forces that have the potential to revolutionize the future of food in Canada. Bill Chamness, VP strategic planning at Juniper Park\TBWA explores this further.
The new Future of Food report comes at a crucial time in Canada, we are no longer the country of yesterday, but still not the country of tomorrow.
Food is at the centre of this radical evolution – where we are re-evaluating topics ranging from climate change, supply chains to social justice.  The findings should pique the interest of anyone interested in understanding the powerful impact of culture on the way we are interacting with food, and vice versa. We explore topics including:
Food RX: Food and pharma intertwine, reshaping our plates and cravings.
Food Under Review: "Good" food now means ethical, sustainable, and inclusive nourishment.
Beyond Consumption: A redesigned food system turns passive consumers into active participants.
Tech's Kitchen: Technology's role in food ascends.
Tech's kitchen has the power to disrupt our lives in Canada the most acutely. We enthusiastically embrace science and technology in most aspects of our lives, while remaining hesitant when it comes to food. We hold romanticized nostalgic narratives of food sourced as close to nature as possible, and any inclusion of technology in this formula taints this notion.

However, our futures depend on technology, the planet's food systems are currently responsible for about 70% of biodiversity loss, and yet we'll need to produce 56% more to feed the projected population of 10 billion people by 2050. The tension is real.
Welcome Lab Grown Meats to the chat. The Canadian government has committed millions in funding to two start-ups from Canada, in hopes of creating the next generation of vegan seafood. They aim to replicate the texture, taste, nutritional benefits, and cooking experience of traditional seafood.
One of these businesses is Toronto-based startup New School Foods, which has received funding from multiple government agencies, including Protein Industries Canada, to help develop its whole-cut vegan seafood products that aim to emulate the texture, taste, nutritional benefits, and cooking experience of conventional seafood.

The other is Vancouver's Modern Plant Based Foods, which received a government grant from National Research Council of Canada's Industrial Research Assistance Program (IRAP) for research and development costs towards its new vegan meat and seafood portfolio, Modern Meat, which includes products such as crab cakes.
Meanwhile, AI is solving one of the most taxing parts of being an adult…trying to figure out "what's for dinner?"
According to a 2023 Morning Consult survey about consumer's preferences around AI products,
AI-generated grocery lists and AI-generated menu recommendations at restaurants topped the list. In fact, 48% of people in the United States surveyed want AI-generated recipes.
More specifically, get ready for custom-crafted recipes delivered to your doorstep. Instacart's ChatGPT plugin does just that. The attached image supplied by Kelvin Chong, strategist, TBWA\Sydney, shows this in action.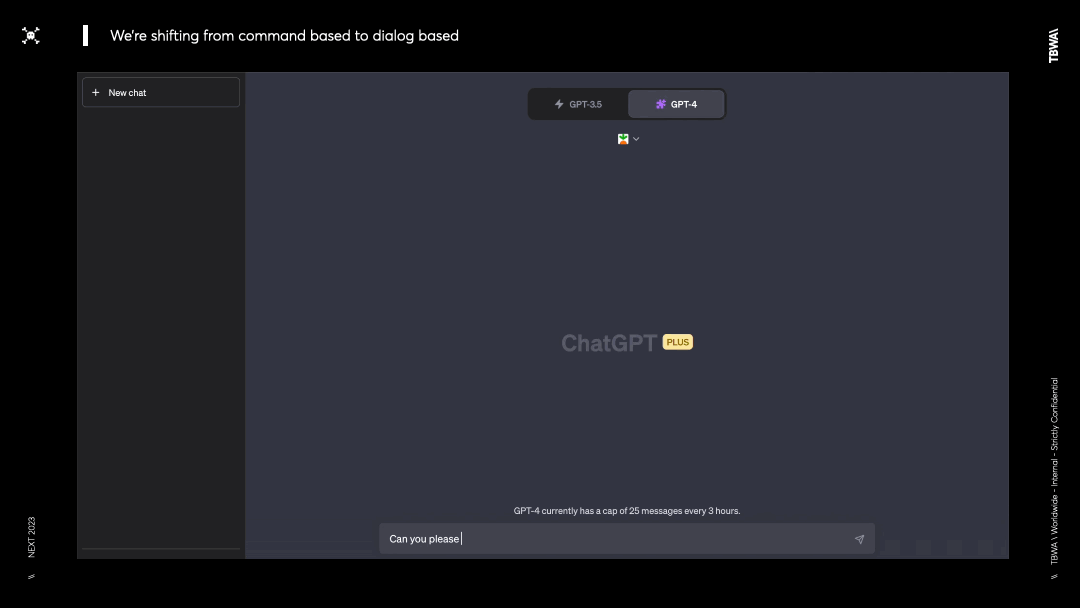 The future of food is here. It will be ground zero for some of our more contentious debates, our most impactful decisions, and hopefully our most delicious and fulfilling moments.
Food is at the centre of our lives and our lives are changing, fast.
Bill Chamness, is the VP strategic planning at Juniper Park\TBWA, the Toronto-based agency that is part of the wider TBWA Worldwide network of advertising agencies. For more information on its Future of Food report, visit here.
Juniper Park\TBWA is a member of the Institute of Canadian Agencies. Report on Marketing is where leading Canadian agencies showcase their insights, cutting-edge research and client successes. The Report on Marketing provides a valuable source of thought leadership for Canadian marketers to draw inspiration from. Find more articles like this at the Report on Marketing.
See all Ideas & Insights