By Leah Power, EVP Strategic Operations Consultant at the Institute of Communication Agencies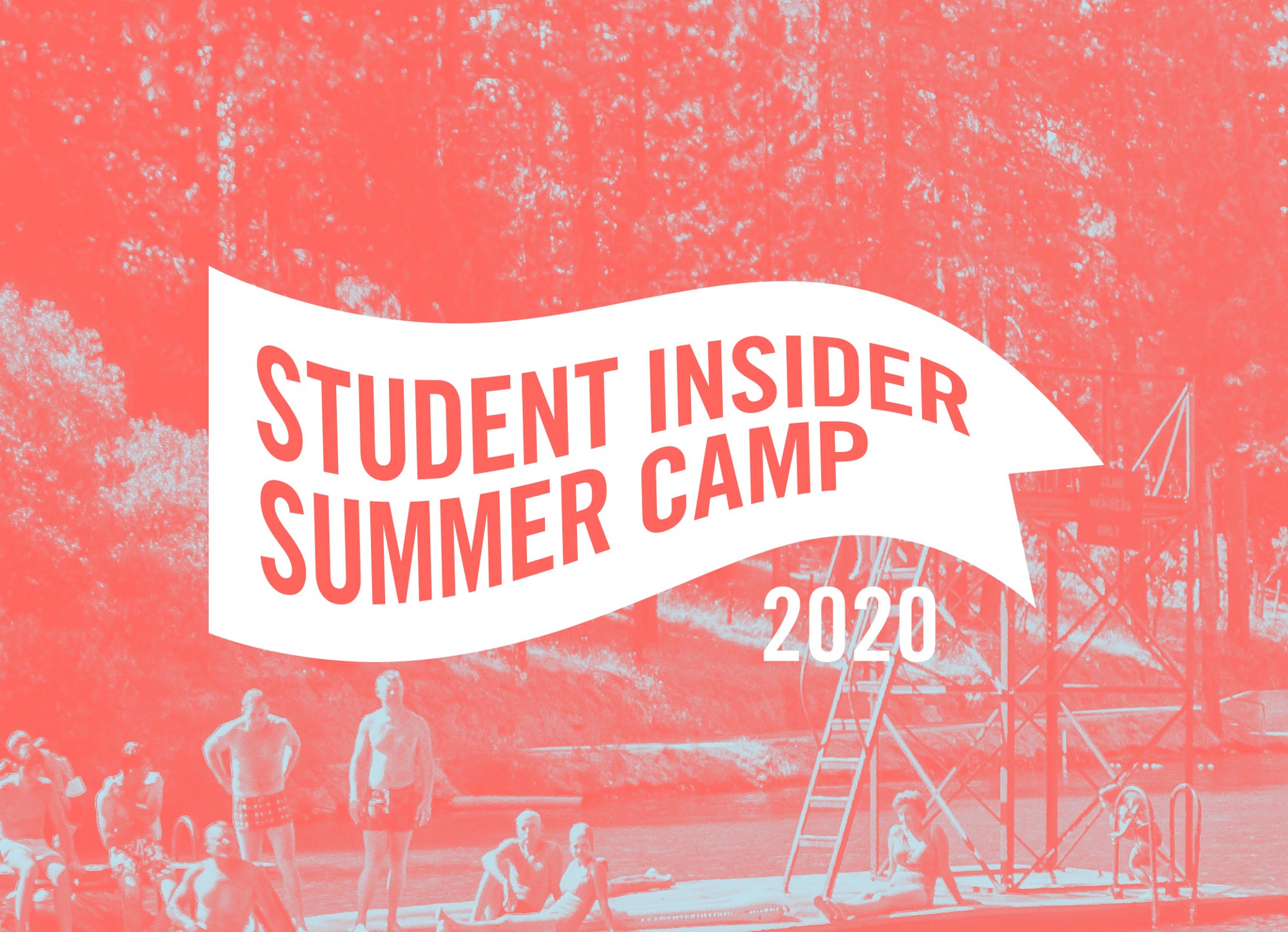 It's so important to keep fresh, diverse talent from across Canada interested in a career in advertising. The Institute of Communication Agencies has achieved this previously through initiatives including Advertising Unlimited, a physical Day-At-An-Agency designed to inspire and educate students about the industry and what they can expect from a job in a communication agency.
Obviously, with the pandemic and lockdown we knew running another event like that in 2020 wasn't possible. It took us about a day after the lockdown to realize that we needed to support the ICA member community virtually. By the end of that first week we knew we also needed to support the non-member community. We knew that we needed to continue to invest in our Future Talent program, and our agency talent leads gave a resounding "Yes!" that we should do something virtual for the next generation. We had the idea right there on the call, and we got to work on the curriculum for what would become the "Advertising Unlimited Student Insider Summer Camp".
And, I'm delighted to say, it's been a great success – we hosted 46 Summer Camp Sessions on Zoom, there were 223 "Student Insider" participants, and 59 "Camp Counsellors" from the industry gave their time to present to the students. We issued 129 certificates to 62 Student Insiders and 20 of these achieved Distinction status (earned by those attending 15-plus sessions). Most importantly, the feedback we received was tremendous, it was an experience that excited participants about the industry and working within it.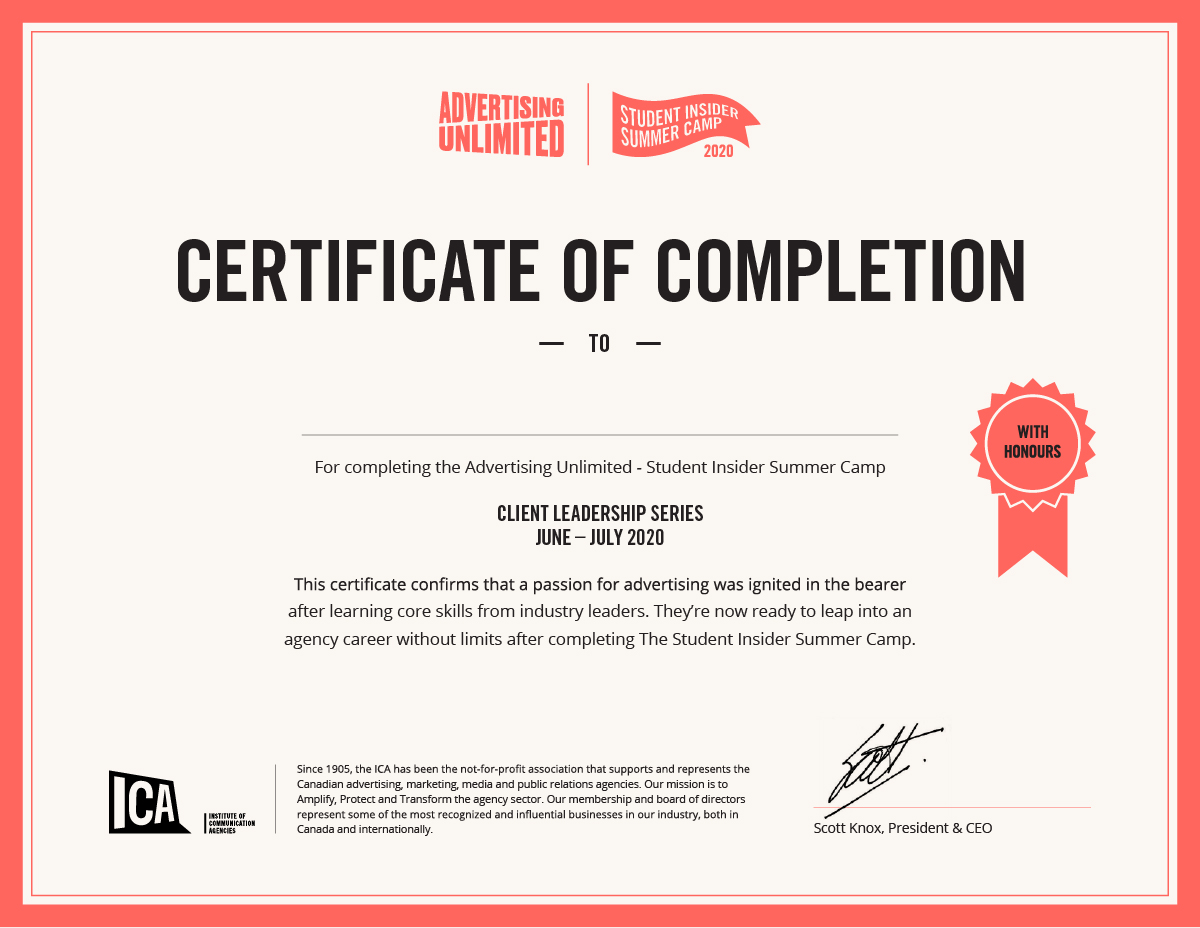 The speed at which we wanted everything up and running was a challenge. Beyond that, our major issue was connecting with students. Some academic partners were slow to respond as they were going through a huge amount of disruption on their end too or our contacts were not up to date. We also didn't have many contacts for schools outside of BC and Ontario. Although we reached many in Alberta and Quebec and some Student Insiders joined from as far away as the UK and the US, our learning for next time is to make sure we have better representation outside of those provinces.
We had decided to cap the class sizes. I think what we'll do next time is extend the sessions to a wider audience. That way it saves the Camp Counsellor from having to deliver the session twice and the Student Insiders gain more knowledge and insight through a broader range of varied questions.
Consistency of branding and design also proved to be very important and was a huge part of setting the tone for the program. It clearly communicated that the sessions were meant to be informal, fun, engaging, etc. but also important in each Student Insider's development – just like regular summer camp. We also created a toolkit that worked across all Summer Camp touchpoints: from speaker slides; to sharable social assets for the students and the camp counsellors that allowed us to get the word out; growing the reach of the initiative organically and creating an industry-wide buzz.
A big focus was to make it easy for participants to understand the structure of the program, what they were going to get out of it, and to follow the calendar. So my advice would be to view the situation from the speaker and the attendee perspective the whole way through. Also, make sure presenters and panellists have a pre-call and/or hop on the Zoom early to do a sound/camera/share check.
What's been so energising about establishing a virtual program is that we loved the ability to connect with students and others interested in the Canadian marketing industry from right across the country. I think the entire ICA team got a lot out of the connection with our Future Talent, and I don't know who benefited most – the Student Insiders, the Camp Counsellors, or us, at the ICA. It's a toss-up. Looking ahead, we see this program having a couple of different applications throughout the academic year and we're now engaging with academics to see what that could look like. As for another Summer Camp? You bet.
Report on Marketing is where leading Canadian agencies showcase their insights, cutting-edge research and client successes. The Report on Marketing provides a valuable source of thought leadership for Canadian marketers to draw inspiration from. Find more articles like this at the Report on Marketing.
See all Ideas & Insights