As a valued business partner, we thank you for your commitment to supporting the journalism that Canadians are telling us they appreciate as an essential service.
You have our commitment that The Globe is dedicated to support both you and the needs of your business.
Here is a small selection from the many notes of reader appreciation our newsroom is receiving.
A propos nothing, or everything(?!), we want to *thank you* and all your colleagues at the Globe and Mail for your balanced and reliable coverage of all things COVID-19. In an era where just about anyone with a device can 'publish' so-called news/truth/facts, The Globe's reputation and high standards are so necessary.
---
Thank you for letting me know that you will continue to print in these trying times.  I am in my eighties and disabled, and look forward to receiving my Globe and Mail every day.  It keeps me connected. Take care and stay well.
---
Thanks to you and all the journalists at The Globe and Mail. Your coverage of the Covid-19 crisis has been comprehensive, timely and thought-provoking. I turn to the online version multiple times a day. 
---
I just want to thank all of you at The Globe… have been a Globe subscriber for many years. Sometimes I might disagree with an opinion but I treasure and trust my Globe.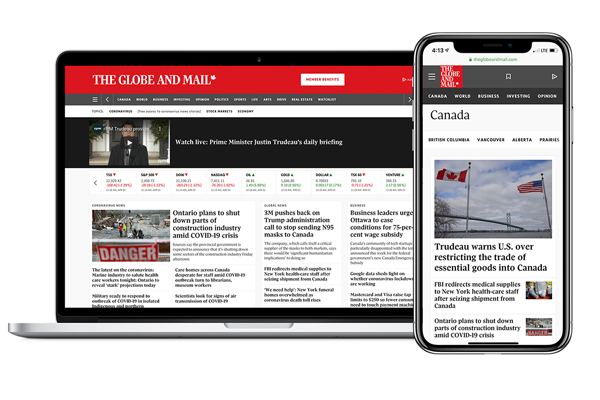 I live in Gibsons, BC and I read your newspaper every Saturday. I read it cover to cover and it takes me most of the week, sometimes longer. This week, in order to get the paper, this is what happened:
Rode to my local store Fong's Market, waited for the owner to come out (she stood at least 2m away) and take my order for a bag of egg noodles and a Globe.
I recited my visa card number and she wrote it down.
She went in to scout out my order and came back to the door to hold up the noodles to be sure we had the right ones. Fong's is small but has 15 types of noodles, laundry baskets and just about everything you can imagine wanting to buy.
A few minutes later she came back out with a bin in which I found my treasures and my visa receipt.
I cycled home, made some tea and sat down to read
Probably not a feasible way to run your business on a long-term basis.
---
Keep up the great newspaper. We so need people like you just now.
---
Knowing the Globe reporters are hard at fact-checking and consulting experts gives me a calming feeling. I have been a loyal reader all my life. From the time I remember, The Globe was a constant in our household. My parents read it cover to cover and I learned to as well as a young child. Thank you for carrying on. Thank you to your reporters, writers and editors for their dedication in the face of this. You are so very valued, needed and indeed essential.
---
We so appreciate your accurate news. Even our nephews in the U.S. trust our Globe for info. Sometimes I think it is the glue to our country. Keep up the good work.
---
We get the Ottawa Citizen as well as The Globe. It has an "NP" section, with Post excerpts, including some respectable columnists. But for reliability, objectivity in reporting, and thoroughness, I always turn to The Globe. I'm not sure whether it's for that reason that I admire The Globe, or for its deep array of columnists – fortunately, I don't have to decide that question.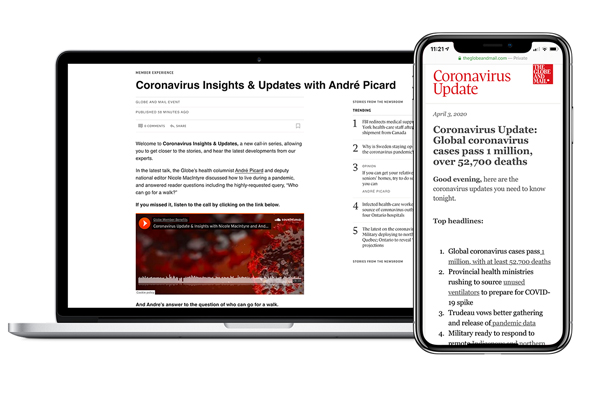 Globe Newsletter readers: 
All the Updates being sent out, but especially the evening update, are extremely helpful in this difficult time. Many of us are focused on looking after children, now home from school, so the update is a good way to keep in touch with what is happening in Canada.
---
Thank you for your science-based coverage. Facts matter. 
---
Thank you for your diligent coverage of the current events, I'm grateful for the news.
---
We thank you sincerely for your efforts in trying to put our minds at ease.
---
Thank you re:paywall – I noticed it yesterday as I could read a Globe article but couldn't get through to a Star article. So you get my continued appreciation and respect.
Explore The Globe's extensive COVID-19 coverage.
Our journalists have been working around the clock to deliver the most up-to-date and most accurate information possible.
And, in the interest of public health and safety, we dropped our paywall on all coronavirus news stories.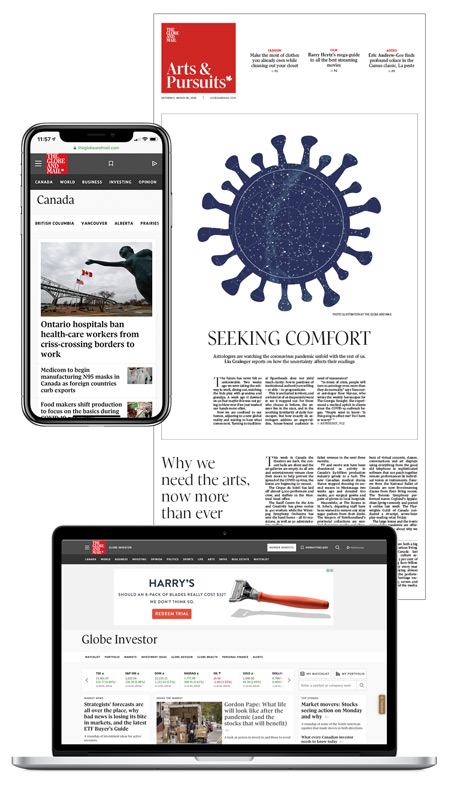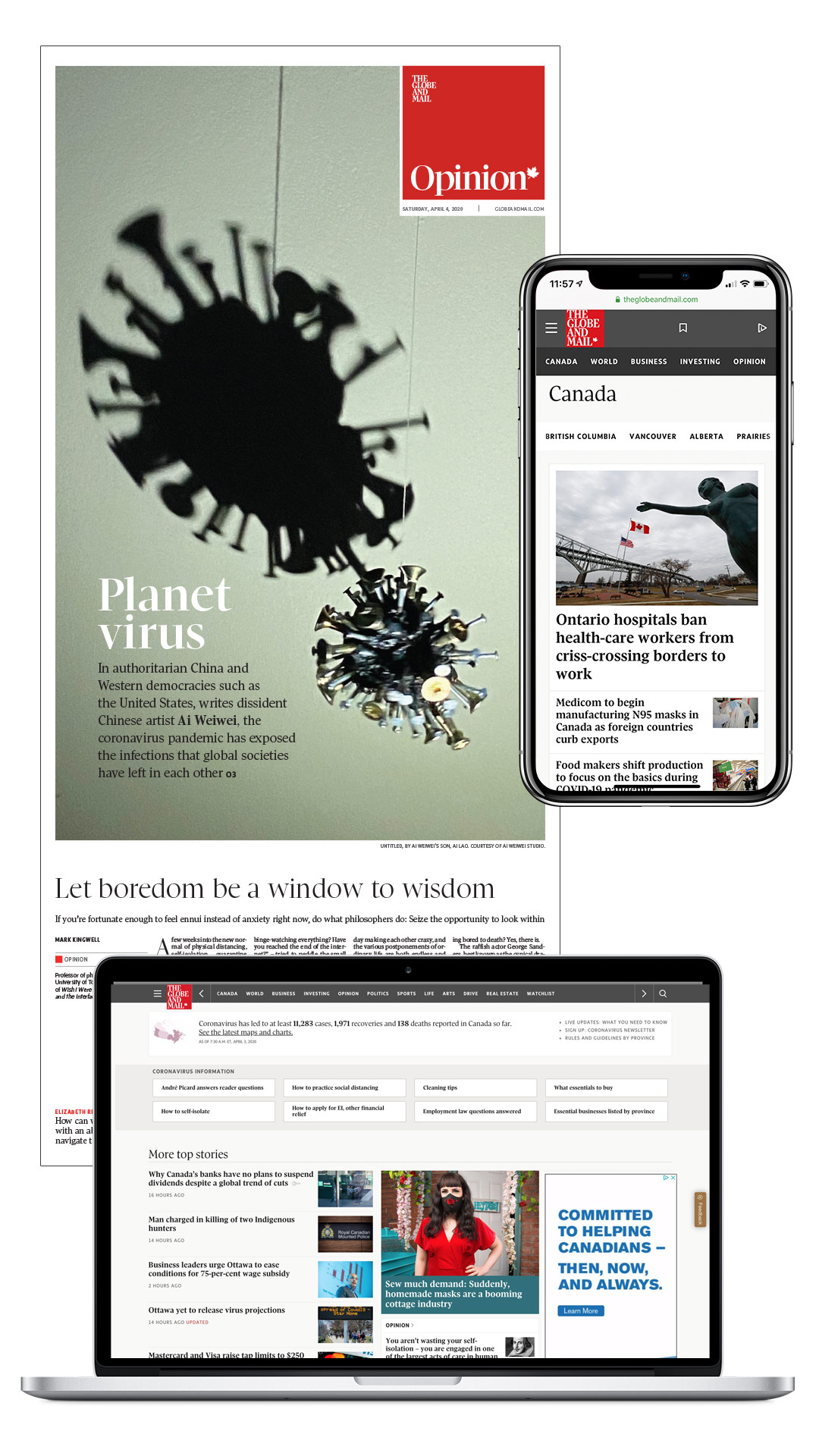 We're seeing massive demand for our news, in-depth health explainers, as well as public-health recommendations, travel advisories and government responses.
We're also seeing unprecedented appetite for our business and investing, personal finance, parenting, arts and entertainment content.
We're providing high value for people of all ages and interests – helping us all adapt to the new normal of physical isolation and working from home. 
Our mission and values could not be clearer – delivering the information Canadians need, when they need it and helping to make sense of the world around us.
And, as we hear from our audiences – and their immediate challenges – we're making a few temporary adjustments to our products.
See all Ideas & Insights