Leading up to the 2020 Young Lions Competitions, we're spotlighting conversations with past Canadian gold winners. We ask them to share their unique competition experiences and shed light on the strategies and tactics that allowed them to make a big impression and ultimately take on the task of representing Canada at the Cannes Lions International Festival of Creativity.
Thomas Zukowski and Michael Romaniuk, winners of the 2019 Canadian Film Competition, went on to win a bronze medal for Canada in the global competitions. Their bold ideas didn't stop there. In fact, their innovative idea outside the competition allowed them to truly make the most of their Cannes experience and tick away boxes on their bucket list.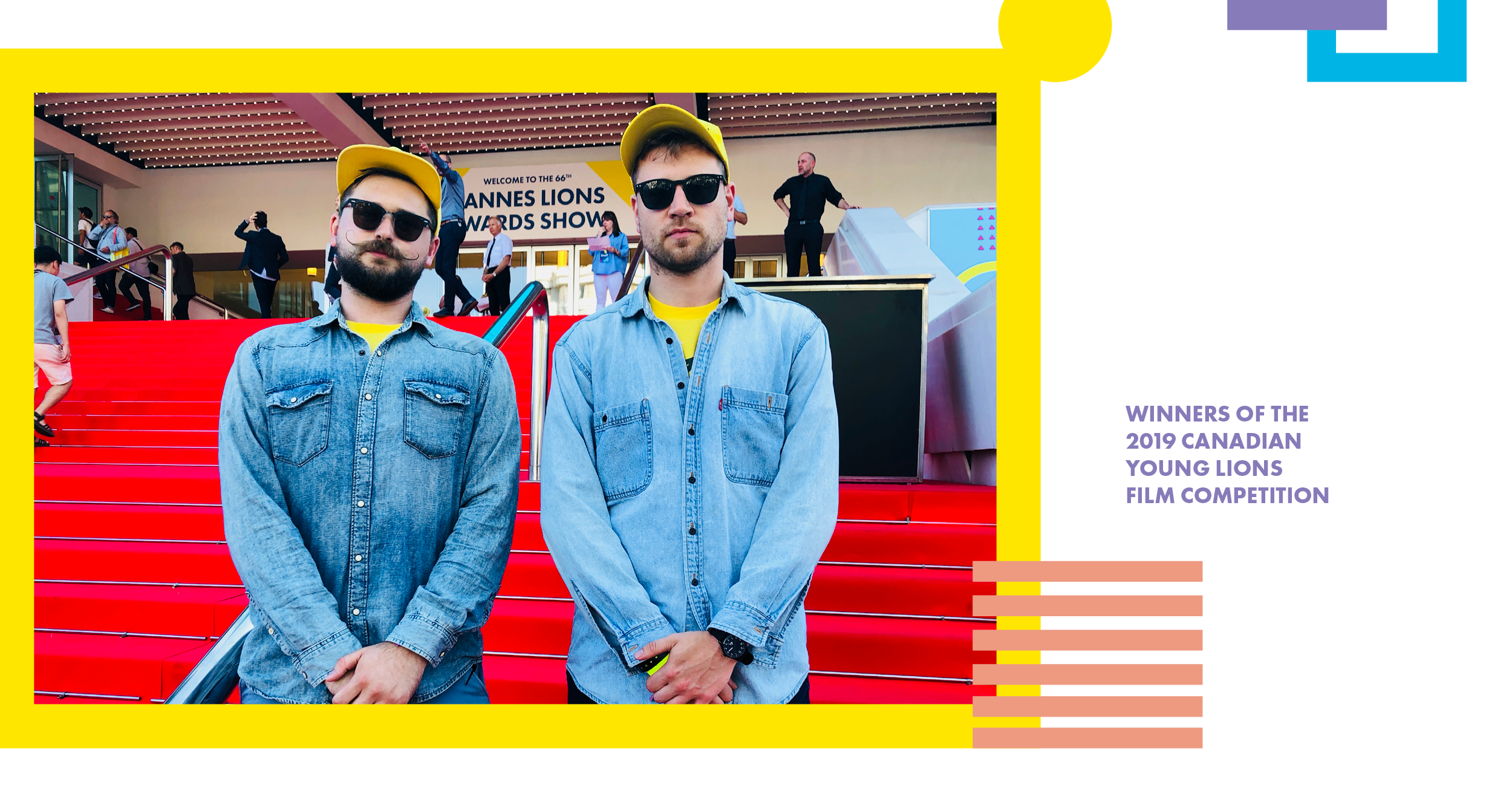 Q: Tell us about yourselves.
Our names are Thomas Zukowski (a copywriter currently working at lululemon in Vancouver) and Michael Romaniuk (an art director at Zulu Alpha Kilo in Toronto). We're high school mates who serendipitously teamed up for Young Lions 2019 after our agency partners were unable to participate.
Q: What was your Young Lions experience like?
Competing in the Young Lions competition felt something like a 48-hour hackathon. It was both exciting and nerve-racking. We were so enveloped in the work we often forgot to eat something. (Word of advice—set food and water alarms). It's always challenging managing your time, and you need to give yourself deadlines and cutoffs to ensure you stay on track.
Q: What was the most rewarding or memorable moment about competing?
The most rewarding moment from the competition for us had to be clicking submit. The competition moves so fast you don't really have time to reflect. It was nice being able see the finished product after the sprint. Additionally, seeing our finished film on the big screen during the conference was incredibly rewarding. We had seen our film dozens of times on our laptops, but to see it in an auditorium with real-time reactions left quite the mark on us.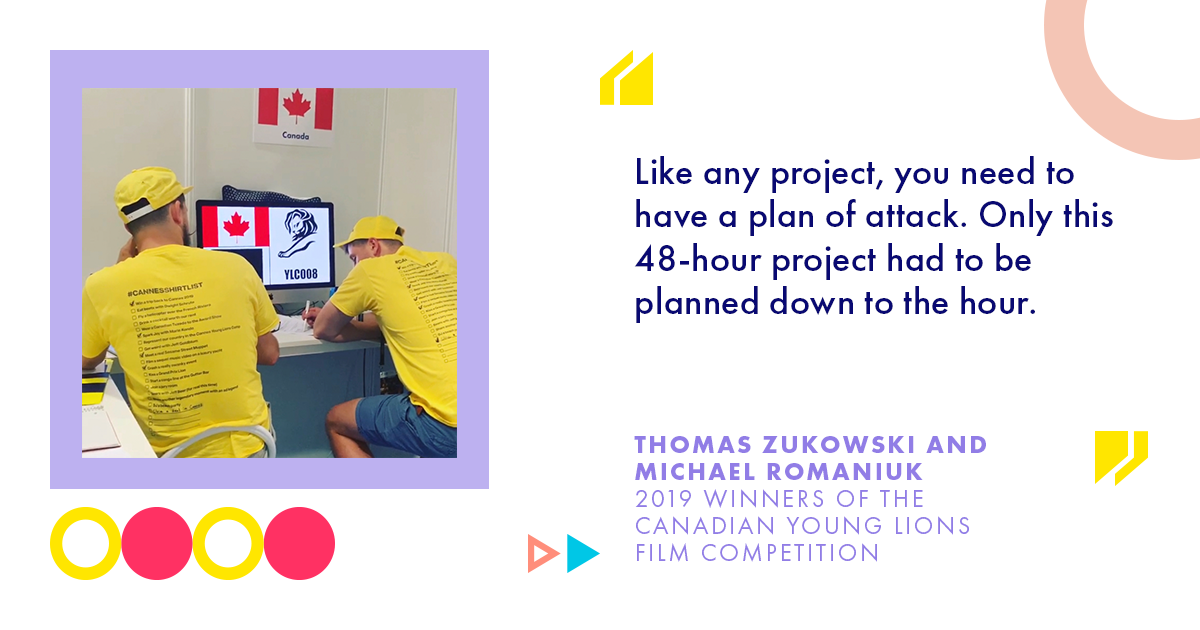 Q: How did winning the Canadian competition change, if at all, your perspective or approach to work?
The competition reinforced the importance of a structured approach to creating. Like any project, you need to have a plan of attack. Only this 48-hour project had to be planned down to the hour.
Q: What did you wish you knew coming into the competition?
We both had done the competition before, but still look back wishing someone reminded us to be our hardest critic. Calling the shots for every aspect of the project was liberating but also paralyzing. Making the final call is just not something we had been used to. Looking back, we've realized we've gained the ability to make tough decisions. If you can go into the competition with that superpower, time will be on your side.
Q: You obviously made the most of your Young Lions experience. Tell us more about Cannes Shirtlist and how this idea came to fruition, your highlights and what you have next in store?
Long story short, we were off to Cannes. Despite not being on the famous shortlist, we thought we'd create our own list—The Shirtlist. We created a bucket-list and printed it on yellow t-shirts and tried to accomplish as much as we could to get the most out of the trip. This created some of our most memorable moments, like meeting Marie Kondo and Rainn Wilson from The Office. What's next for us? We have no idea. We just have to wait and see where our creative itch will take us next. It would be nice to see the Shirtlist live on in some capacity.
Thomas Zukowski is currently a copywriter at lululemon in Vancouver and Michael Romaniuk is an art director at Zulu Alpha Kilo in Toronto. They are the gold winners of the 2019 Canadian Young Lions Film Competition and bronze winners of the 2019 global Young Lions Competition in Cannes. Their Cannes Shirtlist led to an unforgettable experience including meeting Marie Kondo and Rainn Wilson, DJing the Cannes Lions closing party and bringing home a medal for Canada.
Cannes Lions, Marketing Insights
See all Ideas & Insights