With marketers facing a year of change, a future without 3rd-party cookies, and new privacy regulations, strong partnerships between brands and publishers are vital to successfully navigate what's ahead.  We asked Shaenie Colterjohn, a Group Client Director at The Globe, for her perspective on how brands can get the most from these partnerships.
What has surprised you over the last year in marketing?
It's been surprising just how much the pandemic has challenged both brand identity and customer loyalty, requiring marketers to quickly adapt how they communicate their brand values, and ensuring they speak to their customers authentically.  The challenges forced marketers up the funnel, to focus on building meaningful stories with purpose.
Enter content marketing to the rescue. With no guidebook on how to communicate with customers during a pandemic, we've seen the need for compelling brand storytelling come to the fore. Long-lead times for creative development became a thing of the past. While content marketing is not an inherently agile process, marketers – and their media partners – have had to adapt and be both more insightful and more nimble.
For The Globe, rising to these challenges has transformed our business. It has empowered our team to think bigger, be bolder, be more courageous – and that's been reflected in both our client partnerships, and the incredible programs we've produced together.
What brands are getting marketing right and why? 
Brands that have strong values, have invested in design and content that is inclusive and accessible to everyone. Marketers have needed to rethink the way they tell stories, to confront biases, authentically; and to ensure their content is rooted in purpose and valuable to their audiences.
I think IKEA has done a great job using content marketing to not only spotlight products and to showcase their brand values.  With much of the world shuttered at home during the first lockdown, they released a video series on how people can make the best out of their homes and live more happily. IKEA have also invested in product innovation to support their customers with accessibility issues.  They have committed to becoming climate positive by 2030 by reducing more greenhouse gas emissions than the IKEA value chain emits.  These are lofty goals but they make for engaging stories which continually weave through their marketing, with a meaningful, on-brand authenticity. 
What's holding marketers back?
Customer expectations during COVID have rapidly evolved, and people expect far greater value from their interactions with your brand, and when they're ready to purchase, that you have what they want, when they want it, and for their buying experience to be frictionless. 
Too many marketers still retain a myopic focus on short-term ROI and cheap clicks vs 'always on' engagement. While sales results and ROI are obviously crucial, the smartest marketers aspire to create better customer experiences throughout the path to purchase and beyond, in the post-purchase journey.  
In the words of Janet Balis from the Harvard Business Review, "Marketers are competing with the last best experience your customer had." The value of ongoing content marketing is that it provides the ability to nurture and strengthen relationships with customers, building trust and engagement to protect against your competition sliding in to hijack the conversation. 
Creating these experiences requires companies to create and deliver valuable content, supported by data and CX technology at the core of their marketing strategy, to ensure ongoing relevance at every step of their customer relationship.
What makes marketing with The Globe different from other providers?
The Globe has such a strong relationship with Canadians. That's been reinforced throughout the pandemic, as people turned to us for vital information, trusted perspective, and guidance on how to cope with the personal and professional challenges we've all faced. 
We apply the same rigor to how we tell our clients' stories as we do in our journalism. Our best-in-class AI technology enables us to mine deep insights so we can craft stories that resonate with our audiences and drive business outcomes for our marketing partners.
With the pandemic placing new emphasis on the value of brands creating meaningful relationships vs selling product, factors like sustainability, ethical sourcing, and social responsibility have rapidly become important to how consumers select products and services. This is where the 'halo effect' of communicating your brand's purpose and values within our trusted and authoritative journalism delivers the most impact.
What are the biggest opportunities for marketers right now?
Janet Balis also perfectly captures where smart marketers are heading; "We must use data as the fuel yet respect the craft of storytelling to drive meaningful human connections. We must tread a fine line between brand marketing and performance marketing, recognizing that we currently have a bias toward what we can readily quantify. And we must understand what should be centralized and what should be bespoke, identifying where consistency helps and where it hinders."
With the deprecation of the cookie, clients are increasingly reaching out to explore alternatives for identity resolution and audience targeting. Growth in contextual targeting is rocketing. Publishers with a registration or paywall are data rich, and marketers can rely on both their data and content expertise to ensure they continue to connect with the right audiences, in the ideal contextual environments for their brands.   
Bespoke partnerships are where you will breathe life into your brand and build meaningful relationships with high value audiences.  Lean into your media partners to explore new strategies for unlocking the combined value of content, context, and data, and their ability to create unique experiences that can elevate your brand.
BONUS question! What's been your most rewarding/impactful project in the last year and why?
Our partnership with Purpose Investing on The Globe's 'Sixty-Five' Retirement hub.  Purpose launched a new pension fund product this year called Longevity, targeted to Canadians 55+. They needed to reach and encourage audiences to rethink retirement and also connect with Financial Advisors, so The Globe was a natural partner.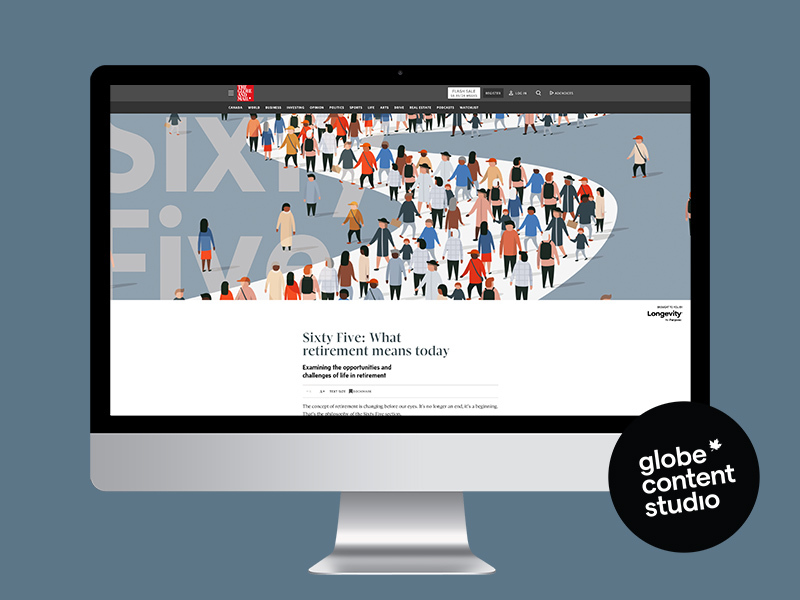 What I love about this project is how it's involved collaboration from almost every part of our organization; Editorial, the Globe Content Studio, our creative design team, data analytics and research (including a quarterly brand sentiment study), our media strategy and project management teams.  
Leveraging our expertise to build a full-funnel solution for Purpose has allowed us to build a great program that deeply resonates with our audience and drives results as part of an ongoing, collaborative partnership.
See all Ideas & Insights