With Canada on the cusp of legalized Cannabis, public sector agencies, municipal governments – and the communities they serve – are scrambling to prepare for the impact, both positive and negative. Canada — as the first G7 country to legalize — will be a bellwether for countries considering legalization, and a lab for epidemiologists, crime specialists, public health leaders and policy makers around the world.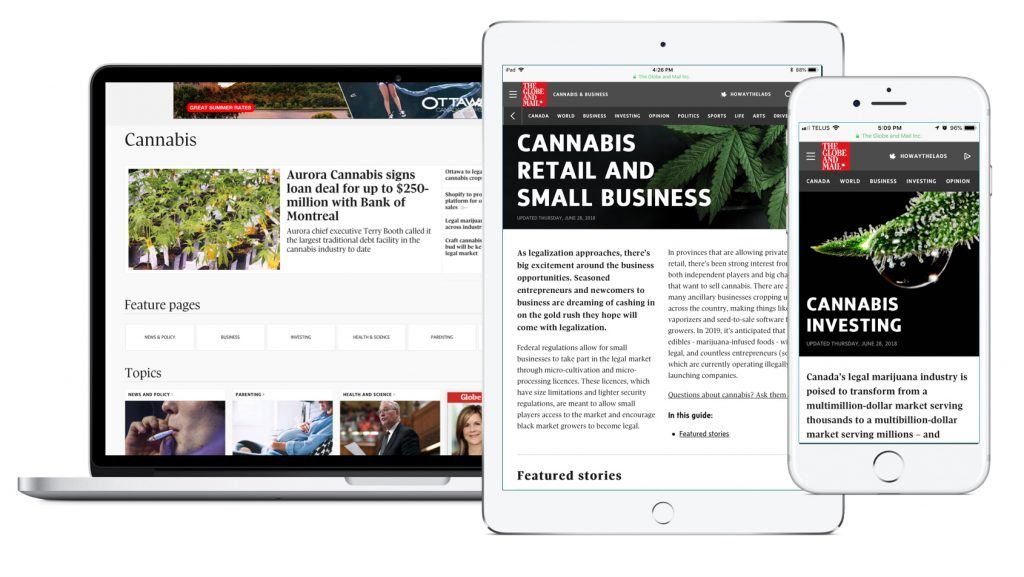 As Canada's most trusted news media brand, The Globe has quickly become the authority on Cannabis legalization and its potential impact on social, political, business, investing and lifestyle activity across our country. We're unpacking the issues and providing vital clarity for a diverse audience of political and business leaders and active investors – who are all seeking the balanced, informed view that The Globe provides.
Launched in early July, our new Cannabis hub is built as a complete ecosystem that enables readers to experience the depth of our coverage in one engaging experience.
Beginning in August, The Globe will snap the legalization issues into focus with Cannabis Decoded, an event series that features top experts and analysts from the U.S., Canada and beyond.
Canada has questions. Together, we can supply the answers.
Partner with us and position your brand as thought leader in this fast growing sector, increasing B2B and B2C awareness, consideration for your brand, and qualified leads for your business.
Craft your Cannabis sponsorship
See all Ideas & Insights