Cannabis
Canada has questions.
We'll provide the answers.
Legalizing cannabis was just the beginning of the story. How are Canadians reacting and how will the industry grow and evolve?
Partner with us to own the Cannabis conversation and position your brand as the thought leader in this fast growing sector.
Cultivating the Cannabis conversation
As Canada's most authoritative news media brand, The Globe has quickly become the destination for information on Cannabis legalization and its impact on social, political, business, investing and lifestyle activity across our country.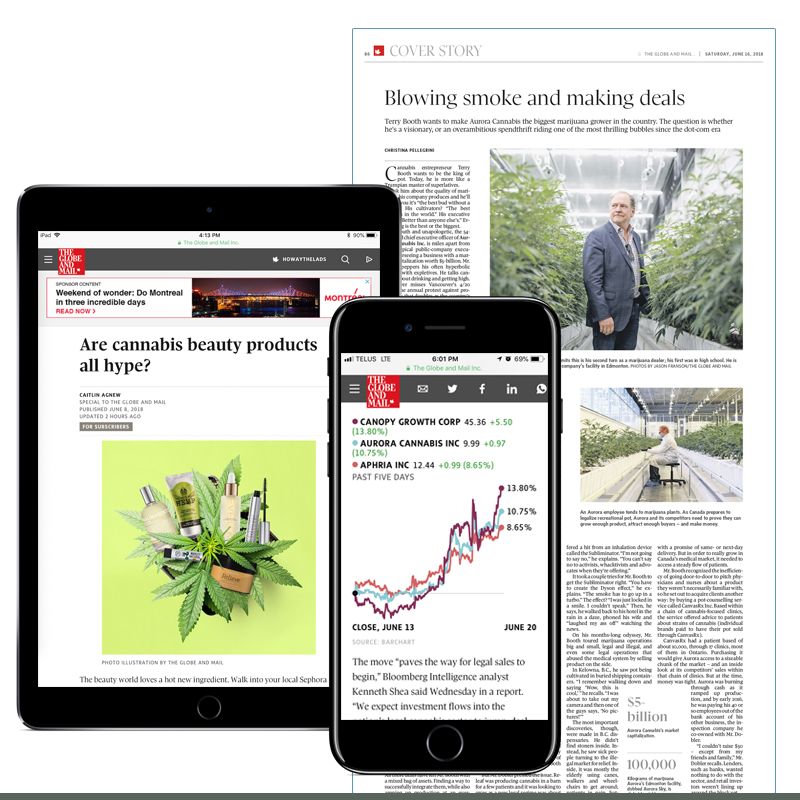 The Globe has published approximately 300 articles on cannabis in the past year.
Cannabis in news, business, health and investing are top performing categories.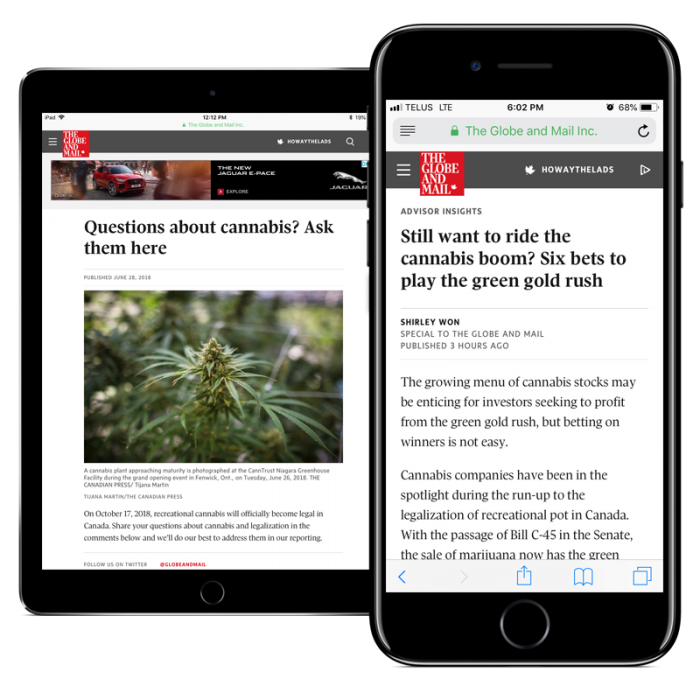 Average cannabis-related page views are 4x that of other Globe content.
Time spent on cannabis features averages nearly two minutes, exceeding our benchmark.
Craft your unique marketing program
Sponsor our leading coverage to increase consumer awareness and consideration for your brand, and qualified leads for your business.
The new
Cannabis Hub
Reach the highest quality audience and position your brand as leader in our extensive editorial coverage. 
Cannabis Decoded Event Series
Lead the conversation with
sponsorship of our engaging
Globe Events.
Cannabis Decoded Reports
Complement your campaign with five editorial reports, focused on cannabis-related topics.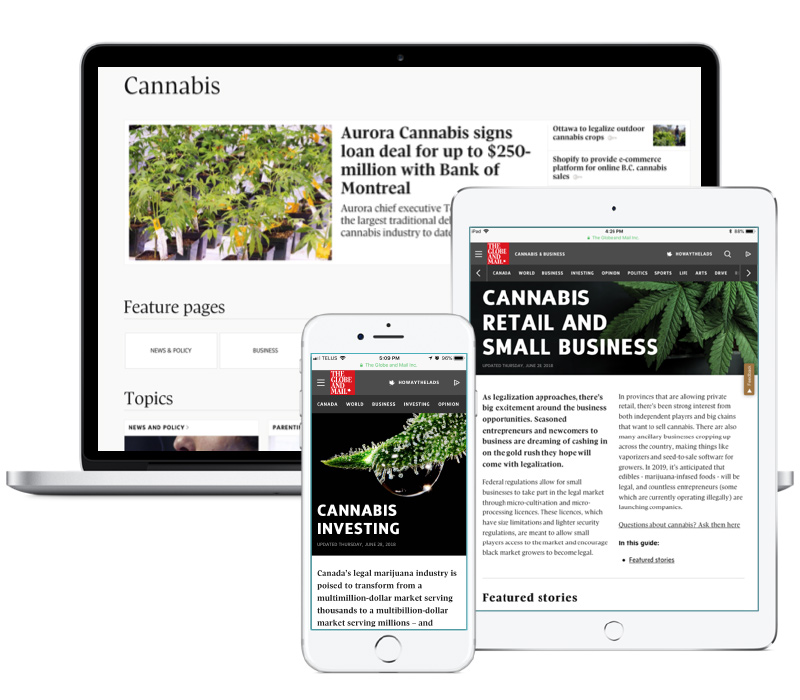 Launched in early July, our new Cannabis Hub is built as a complete ecosystem that enables readers to explore the depth of our coverage in one engaging experience.
All Cannabis-related news and Globe editorial features are presented in six, high-interest, key subsections
First-ever feature hub format, with a mix of general access and subscriber-only content.
New Explainer-style article format encourages continuous reading flow within topic sections and drivers to relevant cannabis article pages
Cannabis Hub Topics
The Globe's audience team has determined the highest interest topic categories
based on data, SEO and social-media analysis.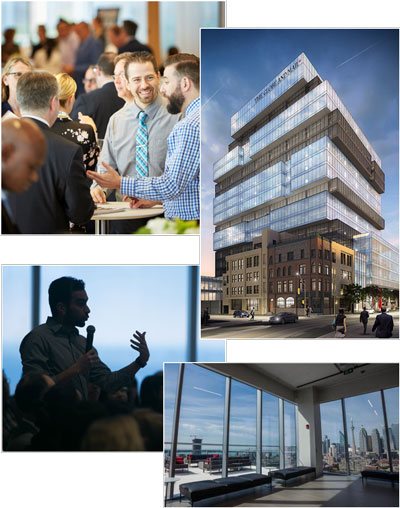 Cannabis Decoded
Event Series
We'll unpack the issues and provide vital clarity for a diverse audience of political and business leaders and active investors – who are all seeking the balanced, informed view that The Globe provides.
Hosted at our world-class event space in Toronto
Attracting a diverse audience of 200+ business, political and investing professionals
Featuring engaging keynote presentations
Cannabis Decoded topics
Beginning in August, The Globe will snap the legalization issues into focus with a five-event series that features top experts and analysts from the U.S., Canada and beyond.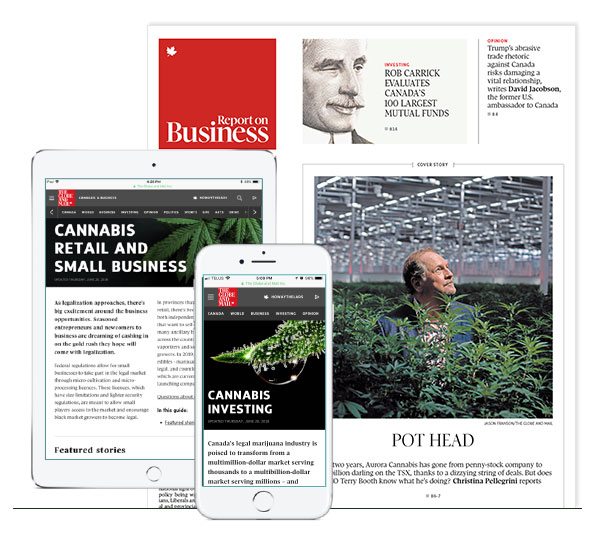 Starting in August, we are producing five editorial special reports that align perfectly with the timing and topics of our event series. 
They represent engaging marketing platforms to augment your editorial hub and event sponsorships or as standalone opportunities too.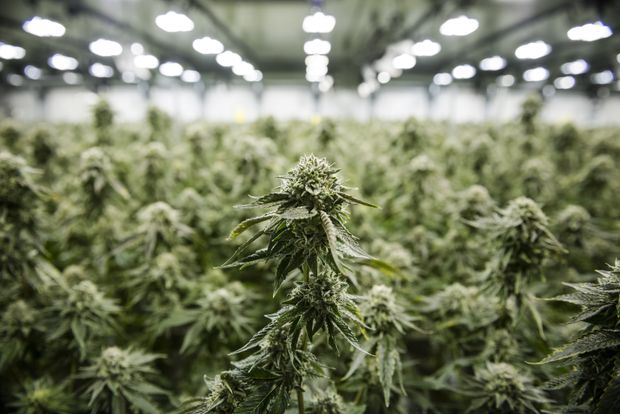 Cannabis Decoded 
National and international experts provide a pre-legalization blueprint for Canadians
Ad Close: Friday, July 27
Material Due: Friday, August 3
Insertion Date: Friday, August 24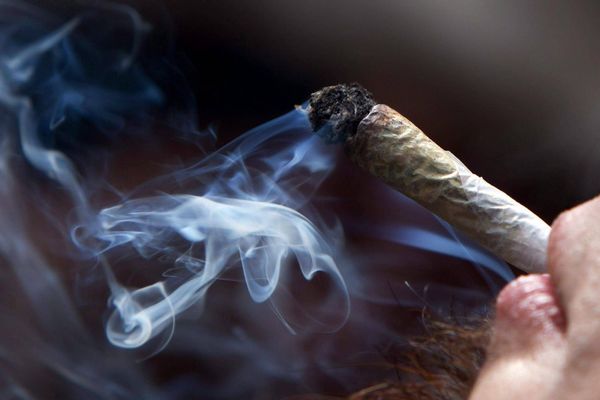 Cannabis and the Workplace
A look at how HR professionals are
responding to cannabis legalization
Ad Close: September 21
Material Due: September 28
Insertion Date: October 19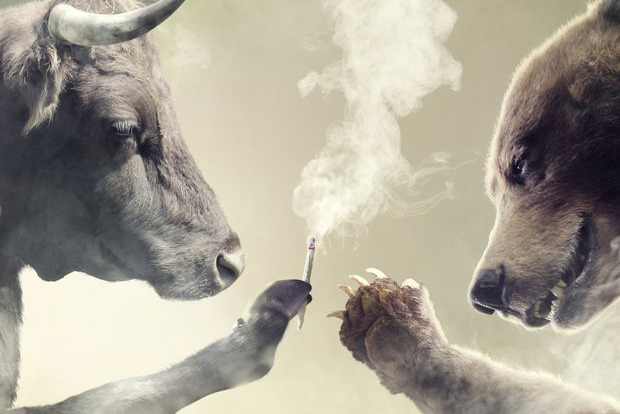 Investing in Cannabis
Ad Close: December 21
Material Due: January 4
Insertion Date: January 25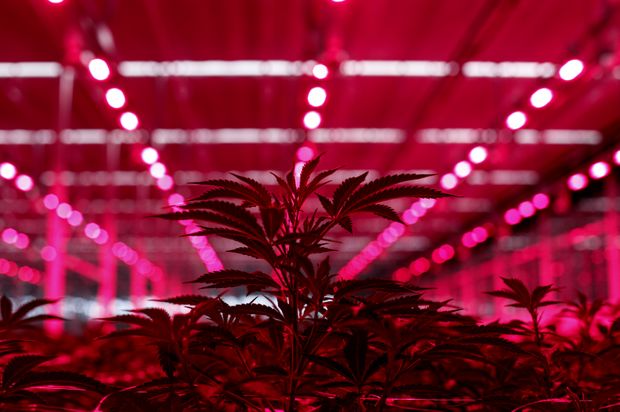 Cannabis Business
and Branding
Ad Close: March 22
Material Due: March 29
Insertion Date: April 19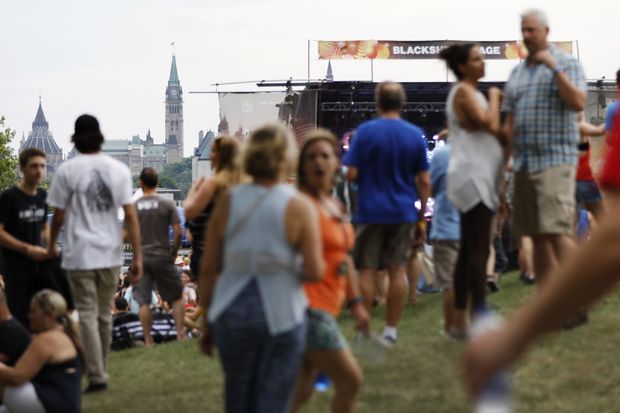 Parenting and Education in the age of Legalized Cannabis
Ad Close: May 17
Material Due: May 24
Insertion Date: June 14
Own your exclusive 3-month waterfall marketing program, fully-optimized to deliver a potent mix of our cannabis news and editorial coverage, enhanced with audience targeting to connect to your most valuable audience segments.
Customize your program, featuring the ideal event and special report themes, along with engaging custom content and a range of high-impact creative formats – all designed to achieve your marketing objectives.
Connect with your Globe team