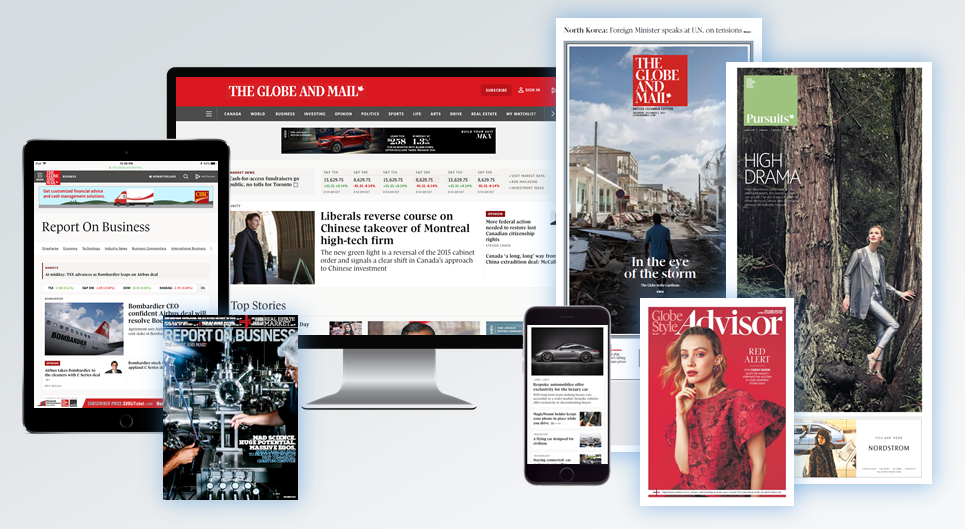 Vividata's Spring 2018 study results were released this week, covering the rolling 12-month period between January to December 2017 and highlighting that The Globe continues to attract Canada's largest national, weekly print and digital readership.
"Journalism matters, and the Vividata results confirm that our commitment to investigative news and business reporting are what Canadians value," said Phillip Crawley, Publisher and CEO. "This investment, combined with our focus on technology to enhance the reader experience, has resulted in The Globe's continued leadership position among Canadian media."
The Globe brand remains #1 in Canada, attracting 6.9 million readers. (weekly newspaper, weekly digital, ROB magazine print/digital)
The Globe and Mail – Newspaper and Digital (National)
6.5 million print and digital – weekly cume
3.5 million print only – weekly cume
4.2 million digital only – weekly cume
958,000 Monday-Friday print readers
1,730,000 Saturday print readers
THE GLOBE METRO EDITION (Ontario, excluding Ottawa)
3.1 million weekly print & digital cume
1.9 million weekly print only readers
1.9 million weekly digital only readers
571,000 average Monday-Friday print readers
963,000 average Saturday print readers
---
THE GLOBE ADVANTAGE…
As always, The Globe delivers the most national reach to key demographics…
Print + Digital Weekly cume
Average Household Income $93,886
HHI $100k+ 2,575.0
HHI $150k+ 1,118.0
HHI $200k+ 582.0
MOPEs 2,145.0
Senior Managers/Owners 478.0
Professionals 695.0
Other Managers 972.0
Business Purchase Influence 2,089.0
Business Decision Makers 1,341.0
Women with children under 18 1,259.0
---
YOUR REPORT ON BUSINESS MAGAZINE ADVANTAGE
1.6 million print & digital readers, every month
957,000 print only readers
Our business magazine continues to deliver the most reach to your key demographics
Higher Average HH Income $106,000
More readers with HHI of $100k+; $150k+; $200k+
Higher Avg. value of Investable Assets $216,000
More Senior Managers/Owners and MOPEs
Higher composition of readers with Business Purchase Influence (BPI) and who are Business Decision Makers (BDM)
---
For more insights into our readership and how advertising with Globe Media Group can build your brand, develop your business and deliver on your marketing objectives, please contact your Globe representative.
See all Ideas & Insights