TRENT FULTON, PARTNER & MANAGING DIRECTOR, THE HIVE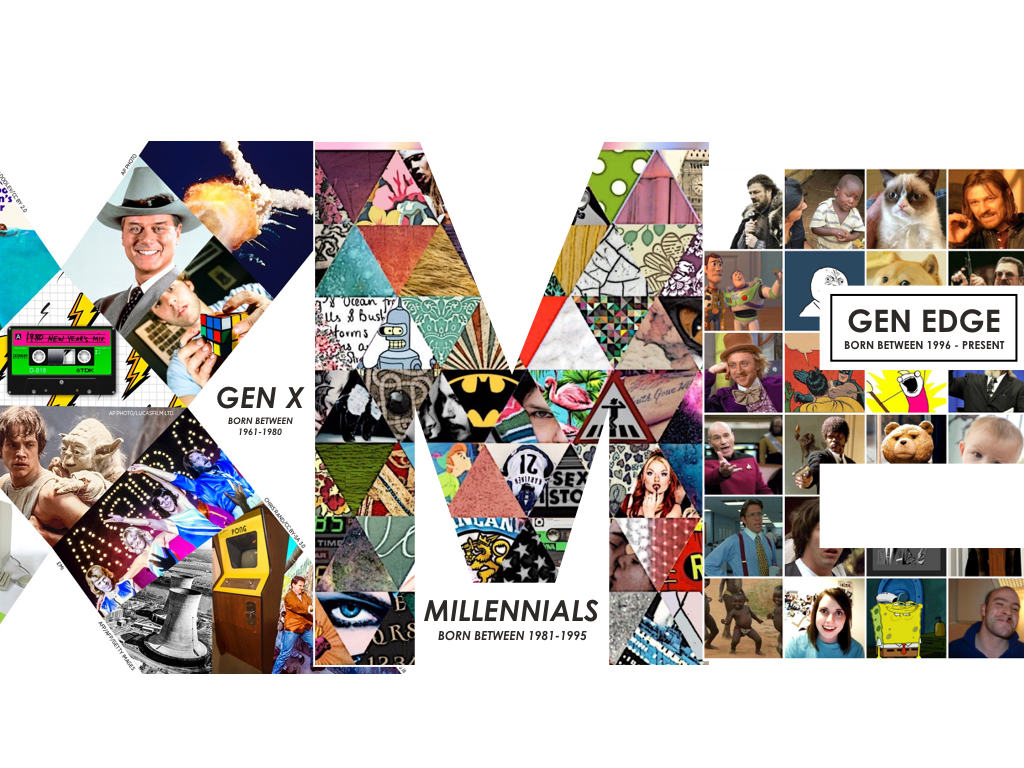 After watching the advertising landscape become increasingly political in the wake of the Trump presidency, the Hive and The Sound decided to team up to understand how politically-themed advertising campaigns were being received by young people.
Over the course of the last year, numerous brands pulled off PR coups or tripped into PR disasters with politically-tinged campaigns. Brands like Patagonia found success by taking a hard stance on issues that spoke to their purpose, while brands like Pepsi caught major blowback for muddled messaging.
To get a better grip on this phenomenon we wanted to look beyond Millennials, whose politics have been covered ad nauseum, and focus on the post-Millennials, those born after 1996.
While this generation has been referred to as "Gen Z", the "iGen" and a slew of other labels, The Sound calls them "Generation Edge." This name reflects the reality that this generation have grown up on the edge of political, familial, economic and ecological upheaval, and coming of age in this context has given them a unique worldview that sits in stark contrast to Millennials.
While their reputation as digital adaptors is well-trodden, their politics is a glaring blind spot. We wanted to shed light on their relationship with politics, from the basics like what the word "politics" actually means to them, to what role they think brands should play in the political sphere.
To accomplish this, we took an in-depth qualitative approach that began with extensive secondary research, followed by interviews with forty-five edgers from across North America, and ending with in-home interviews that took place in Chicago, Toronto, New York and Vancouver.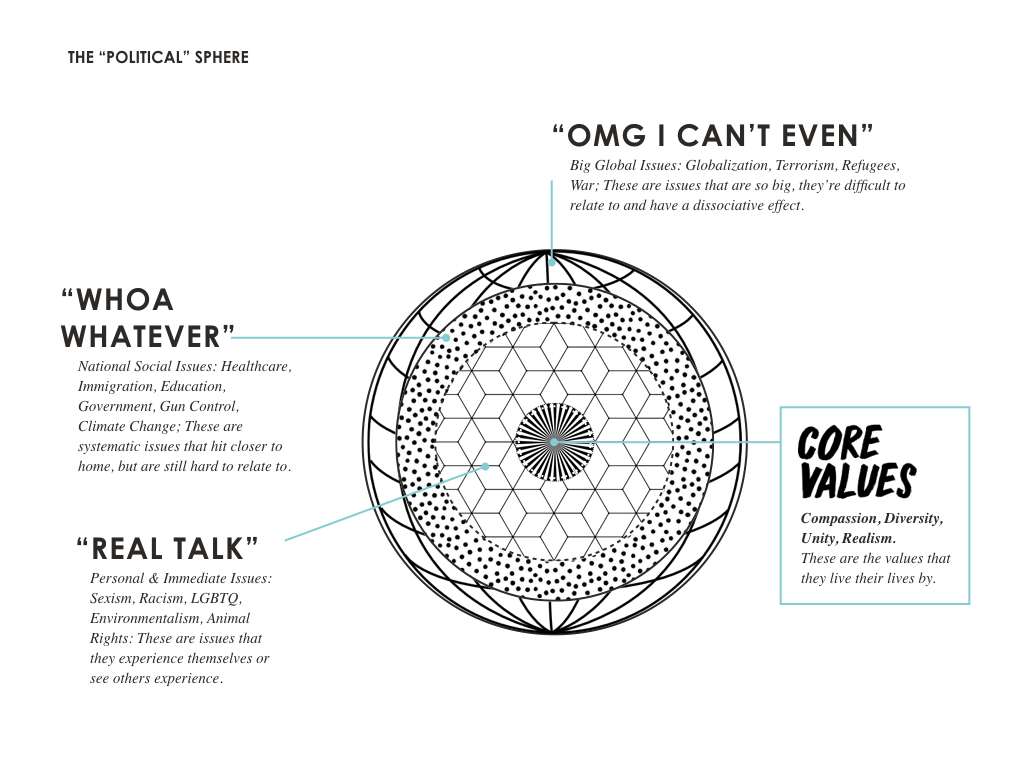 Critical Insights
One of the prevailing assumptions about Generaton Edge is that given their experience, they should be naturally inclined towards political messaging from brands. This is after all, the generation everyone expects to save the world, now that the Millennials have started to get mortgages and car loans. But the reality is quite the opposite.
The omnipresence of social media in the lives of Edgers has had a surprising effect when it comes to how they think and talk about politics. Because they live in a world where they are constantly broadcasting their opinions, and thus being constantly scrutinized, they feel most comfortable engaging with social issues that connect with their personal experience. This personal experience has led them to embrace four core values: Diversity, Unity, Compassion, and Realism.
Global issues can feel furthest away and abstract
Issues such as globalization, terrorism, refugees, and war are the hardest to comprehend for Edgers because they find nothing in them that is relatable. They lack touch points with these issues and feel the distance is too large to overcome.
National Issues are still too overwhelming to be relatable
Issues like healthcare, immigration, education, government, and gun control may have a local impact that is relevant, but they still end up feeling these are out of their control.
Personal and immediate issues resonate the strongest
Sexism, racism, LGBTQ2 rights, environmentalism, and animal rights hit home because they are naturally interpersonal. Edgers feel them on an emotional level because they have routinely witnessed these issues play out in their lives, whether in class, at home, in practice, or on social media. They are most passionate about these issues because they are able to penetrate their personal bubble and connect with their core values.
So what do Edgers think of Political Brand Campaigns?
Avoid capital "P" politics that aren't relevant to their experience
They don't want to be weighed down with the emotional or mental baggage that comes with a brand attaching itself to big "political" issues. Divisive opinions have negative social consequences due to the outsized role social media plays in their lives.
They don't want to create unnecessary discord over something they lack personal experience with. Furthermore, brands that declare that they stand for a singular political issue come off as overly polarizing and exclusive, rather than inclusive.
One of the key factors at play here is the risk of social exposure: When they feel that they don't have the necessary knowledge needed to communicate an informed opinion on big "political" issues, they will opt to play it safe.
Embrace issues that directly connect to their core values
Edgers need to be able to understand how a brand's cause fits into their lives. This can be accomplished by engaging with their core values. They've seen posturing and virtue signaling their whole life and are more interested in action than rhetoric.
Simply put: It's not cool to care, it's cool to be a good person, and the more core values that are being touched upon – the better.
---
The Institute of Communication Agencies' Report on Marketing is where leading Canadian agencies showcase their insights, cutting-edge research and client successes. The Report on Marketing provides a valuable source of thought leadership for Canadian marketers to draw inspiration from. Find more articles like this at the Report on Marketing.
See all Ideas & Insights