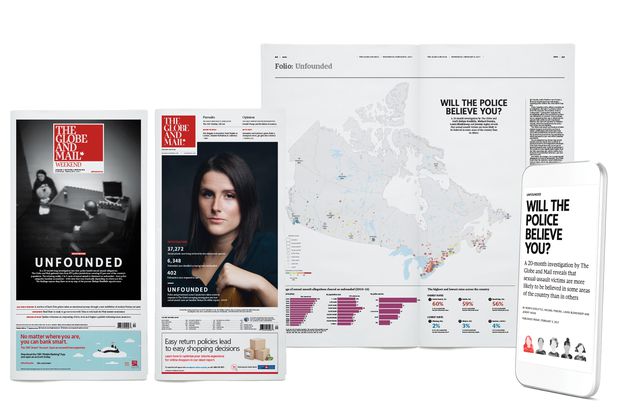 The Globe and Mail won the most honours at the 69th National Newspaper Awards, taking the top prize in six of 21 categories. In addition, The Globe's Robyn Doolittle took the award for 2017 Journalist of the Year.
"We are gratified The Globe won more awards than anyone in this annual competition. Amid such competition, Robyn Doolittle was named Journalist of the Year. We are dedicated to continuing that success," said David Walmsley, The Globe's editor-in-chief.
The Globe awards included a win in the Investigations category for the Unfounded series by Ms. Doolitte, which revealed how frequently police forces across Canada concluded that sexual-assault allegations, even in cases of strong evidence, did not warrant the laying of charges.
"The series, which involved 20 months of painstaking investigation and interviews by Ms. Doolittle, led police forces across the country to re-examine thousands of case files and reopen hundreds," said a statement from the NNA.
Ms. Doolittle was also selected by a panel of three former NNA winners as 2017 Journalist of the Year, with the NNA organization saying in a statement that judges saw Unfounded as "exceptional" investigative reporting that required a massive amount of research and verification by Ms. Doolittle "as well as a respectful approach to the complainants she interviewed."
Overall, there were 63 finalists in the 21 categories, selected from 881 entries for work published in 2017 at daily newspapers, news agencies and online news sites.
For complete information, read the article on our website.
See all Ideas & Insights