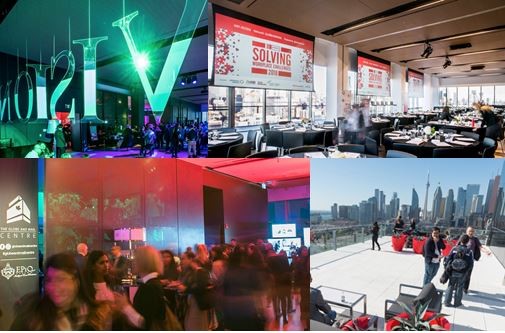 In their annual awards, BlogTO has named The Globe and Mail Centre as one of the top venues in the city.
Great timing as we celebrate the one-year anniversary of the launch of The Globe and Mail Centre on the 17th floor. The Globe has quickly established itself as one of the premier venues in Toronto. We've held 200+ corporate, public and private events, with over 30,000 guests enjoying our state-of-the-art facilities over the last year.
Moreover, it's playing an important new role in connecting people and strengthening industry and community conversations. It's a place where we can bring together leaders and influencers for discussion and debate, in engaging and positive ways. The space has played host to many thought-provoking and newsworthy gatherings, subscriber-exclusive experiences, sponsored events, plus numerous staff town halls and social activities. It also shows that The Globe can continue to evolve our business model by successfully introducing new offerings and revenue streams.
Congratulations to Natasha Mytnowych and her dedicated team for a remarkable first year. And, thanks to all of our clients, sponsors and audiences who have helped bring this new venue to life for The Globe—one with a very bright future!
Explore the Globe and Mail Centre and our Globe Events capabilities.
See all Ideas & Insights