The 2021 Federal Budget announced last week, included provisions to support and sustain the arts, entertainment and recreational industries, during the coming months and into the recovery phase ahead.
Employment in the arts, entertainment and recreation industries in Canada has fallen more than in any other sector in the past year, according to Statistics Canada's Labour Force Survey. The government says its plan is designed to support economic recovery, restoring and creating jobs in these sectors, drawing visitors to towns and cities across the country, and unleashing spending that stimulates local economies. The 2021 Federal Budget earmarks $300-million over two years to Canadian Heritage to create a recovery fund to combat that drop in employment, and support the recovery of these industries.
Here's an overview of the travel, arts, entertainment and recreation-related funding that the Budget plans to provide:
$300 million over two years to Canadian Heritage to establish a Recovery Fund for Arts, Culture, Heritage, and Sport Sectors.
$100 million to Destination Canada for marketing campaigns to encourage and help Canadians and other visitors discover and explore the country.
$49.6 million over three years to Canadian Heritage for the Building Communities through Arts and Heritage Program, the Canada Arts Presentation Fund, and the Celebration and Commemoration Program.
$70 million over three years to Canadian Heritage for the Canada Music Fund. This includes up to $50 million to help the live music sector, including music venues, weather the pandemic as well as investments in TV and film.
"The budget also allocates $60 million over three years specifically to increase diverse voices in Canadian TV and film, and to give a range of people opportunities to build skills and experience. This funding is important because it directly invests in diversity, and shows a greater commitment to telling stories from a wide range of perspectives."
Menaka Raman-Wilms Globe Reporter, Ottawa Bureau
$15 million to Canadian Heritage for the Canada Cultural Spaces Fund to help arts and heritage institutions upgrade their facilities to meet public health guidelines.
$17.2 million to the National Arts Centre to address financial pressures caused by COVID 19 and to ensure the NAC will continue to support artists and celebrate Canadian culture.
$6 million over two years to the National Arts Centre to support collaborations with equity deserving groups to help relaunch the performing arts sector.
$40-million over two years to support the Canadian book industry, the majority of which is geared toward helping bookstores boost and develop online sales.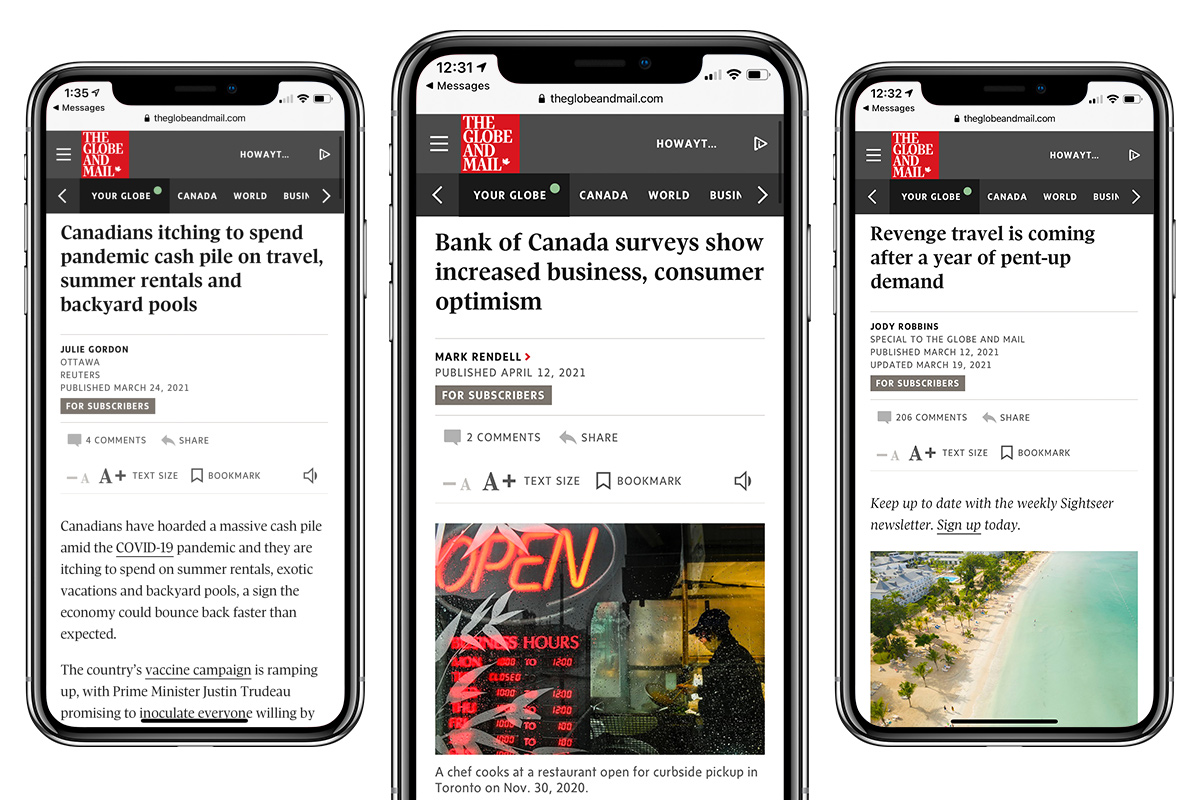 While Canada is continuing to face the pandemic's many challenges, hope is building that this year represents the pathway to recovery. And, as vaccine rollout is accelerating, Canadian consumers, and the many marketers who need to connect with them, are beginning to plan ahead for what's next. With economic indicators and consumer sentiment showing remarkable resilience, and predicting a release of pent up demand from Canadian consumers, desperate to travel and businesses ready to spend, later this year.
Related Articles
note: some of these links require site registration
For more information on the economic outlook, explore Report on Business's Economy section and our extensive coverage of the 2021 Federal Budget in our site.
Marketing effectively during the pandemic's many challenges has been vital in keeping brands connected to Canadian businesses and their customers. And, as we all get ready for what's ahead, more than ever, marketers can strategically, tactically and creatively guide the way.
Connect with your Globe representative to access more of our valuable insights and perspective, and to help determine the strongest plan for what Canadian business audiences need from you now, and during the recovery phase.
See all Ideas & Insights