The Art of Winter, produced by Globe Content Studio in partnership with Travel Alberta and Initiative Media, has won two awards; a Silver in the 2021 CMA awards and a Bronze from the 2021 MIAs. 
Developed to invite Canadians to consider a winter holiday in the province by celebrating the comfort and warmth a winter escape can provide, Globe Content Studio commissioned artists across the province to create custom works inspired by their own experiences of Albertan winters. A virtual exhibition featuring the work was launched on The Globe, pairing each artwork with the artist's personal story, detailing their process and connection to Alberta. By creating an immersive digital world that Canadians can safely travel to, through a combination of visuals, audio and text, we brought Alberta's winter beauty to them.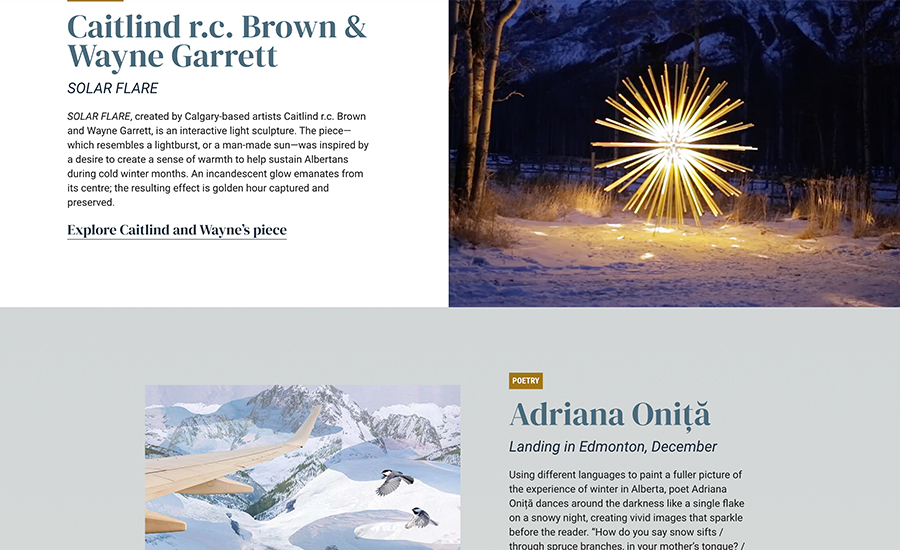 Experience The Art of Winter to see how we featured local artistic talent to shift the narrative around Albertan winters and amplified diverse voices to connect with a large audience of future travellers.
For more details about the program, explore the case study in Globe Content Studio's site.
See all Ideas & Insights