The importance of content marketing as an essential strategy to attract and cultivate relationships with audiences continues to grow, in every industry and every type of business. We asked Sean Stanleigh, Head of Globe Content Studio to share his insights on what marketers are getting right, what's holding them back and biggest opportunities for delivering effective content marketing in the year ahead.  
What has surprised you over the last year in content marketing?
The biggest change has been the level of interest from clients. COVID-19 spurred what I would describe as 'market confidence' in quality storytelling as the pandemic threw wrenches in audience expectations around appropriate communication. Advertising had to adapt to reflect a darker, more serious time, and a vastly different world, which required a thoughtful, nuanced approach to brand messaging. Heavy handed was out, light integration and information was in, and we saw that reflected with increased demand for alignment to editorial storytelling, alongside our Sponsor Content work.
What brands are getting content marketing right and why? 
It's hard to name specific brands because we work with so many of them. I don't want to pick favourites, so I'm thinking about the ones that stand out on their own platforms. I polled my team recently and asked this very question because I like to get outside my own bubble. The list included Glossier, Ssense, WeTransfer, WealthSimple and Mejuri.
In some cases the design and execution are excellent, and in others, it's the content itself that stands out. The best campaigns I've worked on put a halo around a brand because it's packaged in an engaging story. You know how sometimes you'll see a commercial over and over and remember it for years but you forget the brand that created it? That's great creative but not great integration. The sweet spot for content marketing is when you weave a brand into the storytelling in a way that grounds it in the content, but doesn't detract from the content. You're engaged because it's has value for you, and you know who produced it. 
What's holding marketers back when it comes to content marketing?
I talk a lot about the difference between Canadian companies (including divisions of global corporations) and U.S. businesses. Americans are bolder. They are more willing to take risks and try new things when it comes to marketing. Canadian marketers tend to be more reserved. Yes, everyone claims to love the shiny new object, and the phrase "innovative concepts" gets thrown around a lot, but when it comes down to it, when we make those campaign recommendations they can be a tough sell. Believe me we try: brands need to stand out to have elevated marketing impact. 
Brands are also held back by budgets. There's a lot of "we want X, Y and Z and our budget is $5." I'm being facetious, of course, but big, bold executions cost money and the efficacy of content marketing is currently undervalued in Canada. I'm always surprised at the willingness by brands to spend huge dollars on TV commercials, who balk at the cost of digital campaigns, despite the business impact and the myriad forms of distribution, optimization and measurement that accompany them. You simply get more for your money. 
What makes content marketing with The Globe different from other providers?
Clients often ask 'why Globe Content Studio?' Every business should have a value proposition, and ours is that we elevate brands and drive results through premium journalistic storytelling. Our content strategists have all spent time in newsrooms, bringing the weight of that expertise and experience. The Globe is a long-standing, trusted media company that experts, and notable Canadians are open to working with. We leverage the strength of that brand. 
People come to The Globe by the millions every month for the express purpose of consuming content. All of the work we do on behalf of clients can be hosted on our platforms, enabling them to derive the benefits. We target audiences on and off platform. Reach is key. The Globe does not share its audience segments with other vendors, so when you combine that with performance strategies such as display ads, native advertising units and paid-social campaigns, advanced contextual optimization drives more readers to our content than ever before.
What are the biggest opportunities for content marketers right now?
A huge percentage of Canadians continue to work from home and remain a captive audience as they spend greater chunks of time online (and reading the newspaper). I spoke earlier about content marketing stretching your ad dollars further. Take advantage of that. Think longer-term campaigns, or about following one campaign with another. There's a lot of noise out there, and you need to be always on. Without consistency, you'll be coming in and out of the market, all of your efforts to attract attention will be lost in the gaps, and you'll need to work at getting it back again. Does your brand have a conscience? Great. Leverage it. Be authentic. Be transparent. Be social.
BONUS question! What's your most rewarding project in the last year?
We just launched it but I'd have to say Globe Women's Collective. It's a year-long content program designed to set female employees up for success by providing them with insights, knowledge and expertise to move the needle and create changes necessary for equality.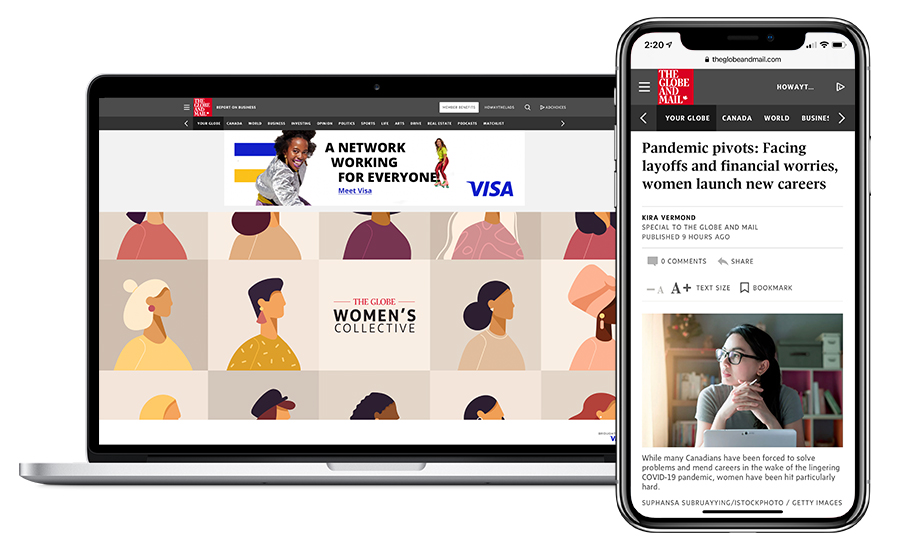 Multiple advertising partners signed on for the full length of the initiative and it enabled Globe Content Studio to leverage our strengths, but it also hits on many of the points I've raised. It's always on, it's meaningful, it's topical, and at its heart is quality storytelling.
See all Ideas & Insights