As marketers navigate accelerated change and innovation, being bold, taking risks and leading the change are as important as taking stalk of what works.  We asked Jamie Rubenovitch, Head of Marketing, Sophi.io at The Globe for her perspective on how to approach the technological opportunities that lie ahead.
What has surprised you over the last year in marketing?
As we emerged from Covid lockdowns around the world, I've seen a new willingness in marketers to take more risk with the goal of achieving higher rewards. We've been pushed to innovate and embrace new ways of doing things faster than before. What worked pre-Covid doesn't work today and won't necessarily work in the future – that means we need to adapt quickly. That's also where technology comes into play. The sheer amount of technology that's becoming mainstream in the market these days is impressive. These solutions can help marketers do more, better and faster. For example, Natural Language Generation (NLG) tools that generate titles for your content, AI that curates that content online, and chatbots that talk to your customers in your stead. It's an exciting time for marketers who want to push the boundaries and lead their teams in new directions.
What brands are getting marketing right and why?
I like how Pepsi went completely outside of the box with Pep's Place, a Fast
Beverages Restaurant. Turning things on its head, the pop up let customers pick their Pepsi beverage of choice first and then offered suggested meal pairings only available online and through food delivery apps. It's getting harder and harder to break through, so forcing consumers to think differently about such an engrained behaviour of ordering your drink last is smart.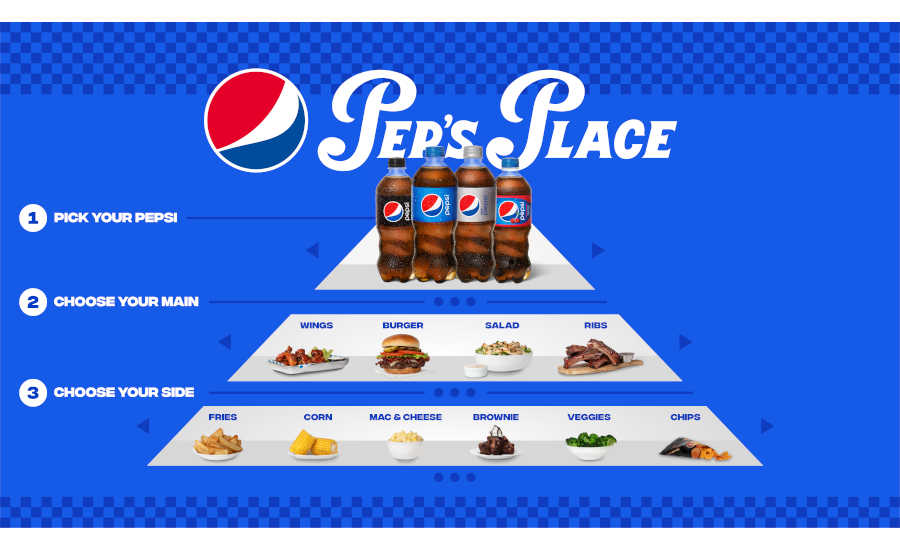 And then there are brands like Pampers and Redbull that continue to show why they're among the best at marketing with campaigns like Million Acts of Love, launched by Pampers on Mother's Day last year to give hope back to parents during a trying year. Pampers focused their message on giving back hope during some of the most trying times when other brands were still falling back on the "we're in it together" message.
What's holding marketers back right now?
A lot is up in the air today. Will the world ever go back to "normal"? What will the new normal look like? Are virtual events here to stay? Are hybrid events? Is brick and mortal a thing of the past? There are a lot of questions floating around that won't immediately be answered. But that doesn't mean we have to sit around waiting around for answers. It's time to make bold decisions and take actions that will propel your brand forward even in unusual times. That starts with identifying your core business goals and then making sure everything you do – every piece of content you produce and promote – brings you a step closer to achieving those goals.
What makes marketing with The Globe different from other providers?
The Globe and Mail is constantly looking to innovate, advance and elevate what we are doing; for example, the Globe has spent a decade developing its own growth platform. An AI-powered automation, optimization and prediction solution that's sole purpose is to help content publishers identify their most valuable content and leverage it to achieve their business goals. It's called Sophi.io. And Sophi doesn't bother with your most popular content, it ranks all of your content according to which pieces drive real value, like acquisition, retention, order value, LTV, and so on. Then it can autonomously curate that content across all of your digital properties to place your most valuable content in the most valuable places online and even in your newsletters. It can present different content to different segments of users coming from a set geography, or coming from social, for example.
Sophi can also help you activate your first party data strategy by curating a user experience that makes users want to tell you more about themselves. Sophi fast-tracks progressive disclosure by getting you from level 1 where you have one piece of data about your visitor, to a completely different level where you've earned higher loyalty, retention and engagement. Sophi's 1-to-1 personalization engine knows to present the highest value offer an individual user is likely to accept, at the exact right time. And anytime it does make a mistake, the AI learns from it and does better the next time.
What are the biggest opportunities for marketers right now?
This comes back to making bold moves and having the MarTech stack to support that. The brands that are excelling these days are looking at the challenges their audience is facing and positioning their brand in intelligent, innovative ways, as the solution. And it isn't always easy to do more with your existing team, so don't be afraid to lean into new tech. Not tech for tech's sake, but tech that impacts your bottom line and takes away some of the work that things like AI and machine learning can just do better and faster, so your team can focus on the things they inherently do better, like developing creative campaigns and strong brand and mission-focused messaging.
Bonus question: What's your most rewarding project in the last year?
Seeing publishers across the world really benefit from the Globe's commercial AI solution, Sophi.io, has been fantastic. The number of webpages that used to appear in reverse chronological order that are now automated and driving incredible business results is remarkable – Sophi is solving a real challenge for many and being a part of that is definitely rewarding. Looking forward, I'm excited about the work we're starting to do with brands outside of the media space. Stay tuned for more updates on that later this year!
Find out more about The Globe's ground breaking AI technology Sophi: https://www.sophi.io
See all Ideas & Insights