HELPING CANADA AND SUPPORTING YOU.
Keeping you connected to Canada
If ever there was a year that reinforced the importance of staying connected and supporting each other, it's 2020.
Like millions of Canadians, you may already be coming to The Globe for the vital information, perspective and advice on how to cope with the personal and professional challenges we're all facing. Canada has turned to The Globe for guidance and insight in record numbers, building the biggest audience in our history – as Canada's fastest growing news publisher.
We've published a wealth of in-depth news, politics, business, investing and health analysis, in print and online.
The Globe is the fastest growing Canadian news publisher
9.1 Million Unique Visitors – up 50% (87% are mobile)
Total Page Views are up 33%
Time Spent (total minutes) are up 85%
The Globe Alliance network adds 11.3 Million more Unique Visitors to The Globe, making us the 3rd largest News & Information publisher overall, reaching 19.5 Million Canadians.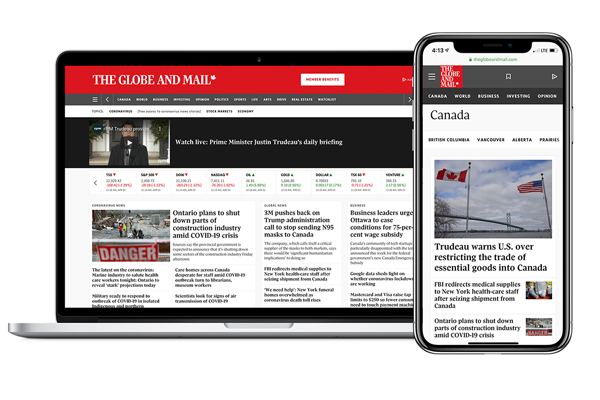 In print, our home delivery circulation is on the rise. In-depth and informative, our coverage is strengthening our readership and quickly attracting new audiences. Subscriptions are the core of our business, highly valued by readers and we have the highest subscription rates of any publisher in Canada.
With the highest subscription rates of any publisher in Canada, we expect that overall readership and time spent with our printed product is now much higher, with everyone at home and seeking trusted news sources.
Source: Comscore Media Metrix Multi-Platform, Jan-June 2020 vs. Jan-June 2019
Explore The Globe's extensive coverage
Get ready for what's next.
With the covid news story shifting to the imminent promise of vaccines, it's been encouraging that human ingenuity and innovation means we can be increasingly optimistic that 2021 represents a path to recovery. 
Amid the second wave, initial economic predictions point to predictions of recovery towards the end of the year… In fact, many economists believe that the global economic recovery in 2021 could prove the fastest in decades. While it will clearly be some time before we can restore the quality of lifestyle and freedoms we cherish, by working together and continuing to support each other, we will get there.
Whatever this new year brings, The Globe will be there to report on it with intelligence and integrity, and we are equally dedicated to supporting you through the months ahead.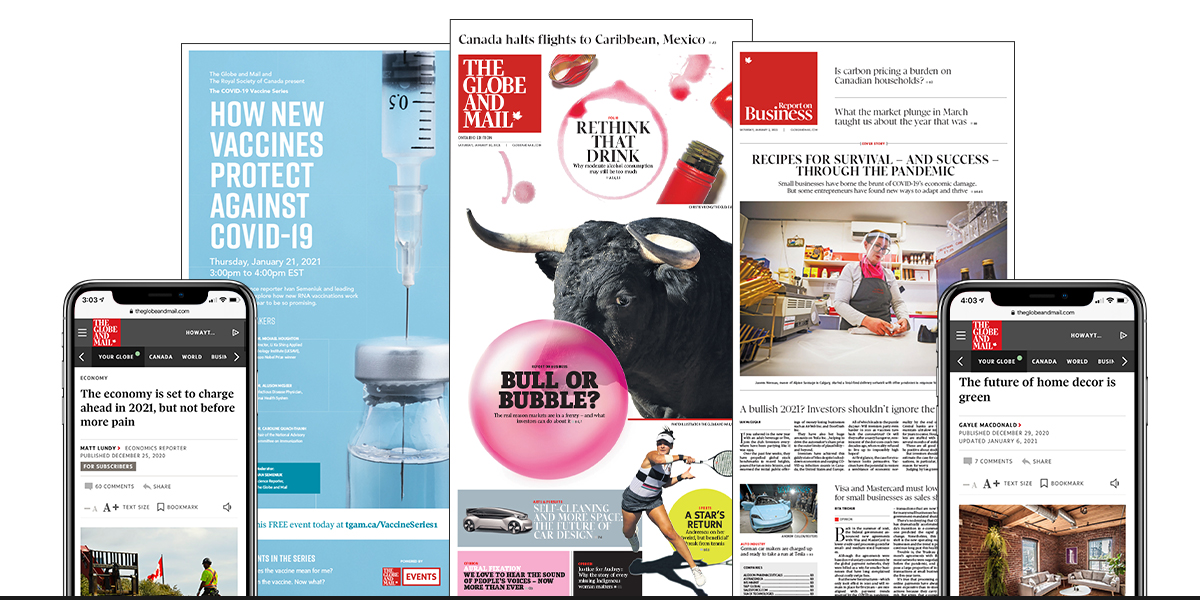 Get complete information about how our platforms and products will keep you connected to Canada. Connect with your Globe representative today, to discuss your needs.