Small Business Recovery Partnership
Canada's small businesses need your support 
In December, Report on Business magazine's CEO of the Year issue declared that our top honour wouldn't go to just one executive, and instead, we awarded it to the leaders of the many millions of small businesses across the country. While Canada's small businesses are the backbone of Canada's economy, they've been disproportionally impacted by the pandemic, and their owners and managers have continually needed access to the most current and relevant information, advice and support – in many cases, simply to survive the pandemic's many challenges.
As Canada's leader in business journalism, The Globe's Small Business Recovery Partnership continues our mission to support these essential businesses and services. Align your brand with this opportunity to help millions of businesses across the country, providing support through the current challenges they're facing and in preparation to navigate the road to recovery that lies ahead.
Build your connection to Canada's small business leaders and decision makers
Millions of Canadian Small Businesses rely on The Globe and our team of expert journalists for authoritative and intelligent business news and insights that directly impact their organizations. Our Small Business Recovery Partnership harnesses our in-depth small business coverage into a definitive resource for entrepreneurs and small businesses to help them navigate the social, economic and technology challenges and opportunities that they're facing now, and in the coming recovery phase. 
By partnering with us to help provide small businesses with this vital support, insight and guidance, your brand will strengthen its connection with Canada's most influential and responsive small business prospects:
Business Decision Makers:

 Globe small 

business readers are responsible for $15 billion in

business purchases annually (Index 130)

Leaders:

64%

have purchase influence in their company (Index 111)

​

Entrepreneurs: 

25% are self-

employed professionals in their industry (Index 121)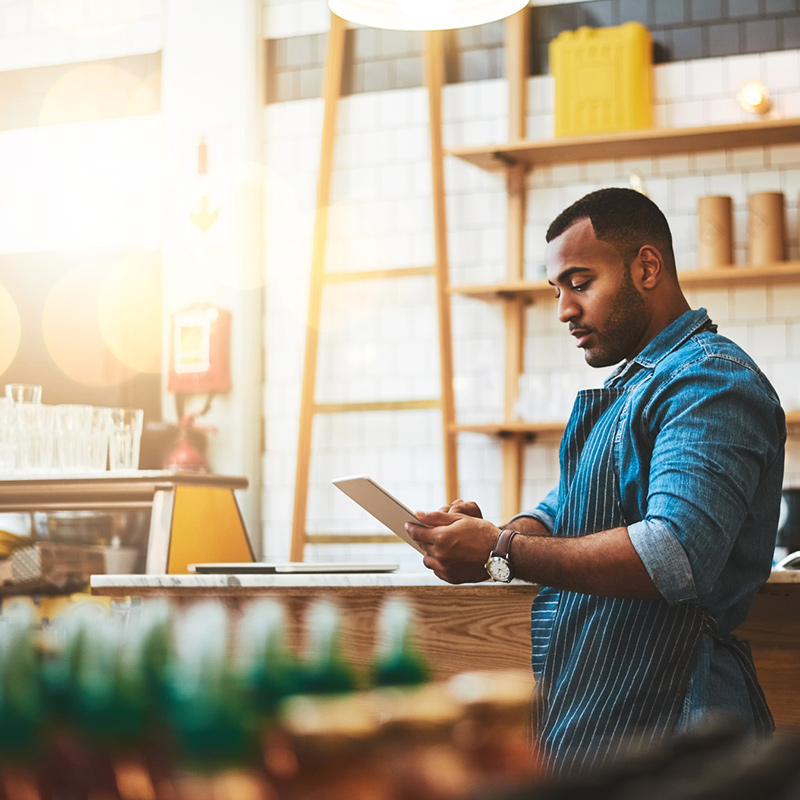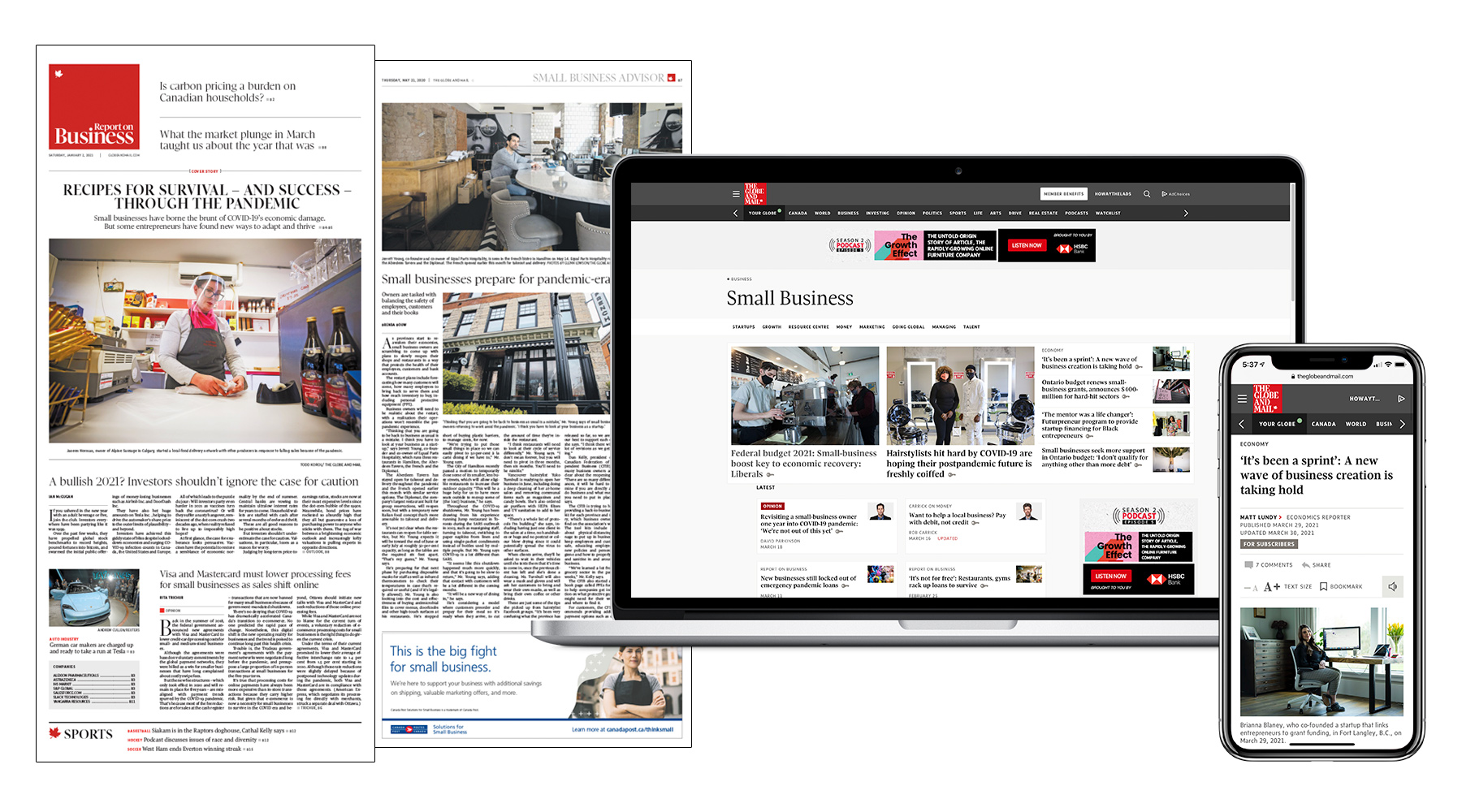 Lead the way for small business recovery in our flagship partnership
Built around The Globe's new Small Business Recovery Centre – your brand will be featured at the heart of our unprecedented access to bold and innovative entrepreneurial leaders and expertise.
You'll be perfectly aligned with our impactful news and first-person stories that share valuable insights into the highs and lows, the risks and rewards of running a small business – and helping owners and managers to build back better in the coming months.
Achieve unmatched marketing performance 
Our partnership features a comprehensive media program that will actively build brand impact and affinity within our highest value business audiences, engaging your prospects both in The Globe and across our Globe Alliance network of partner sites.
As exclusive sponsor, your brand will connect across a wealth of dedicated editorial coverage, in our engaging small business special reports and sponsor content features, and in our newsletters. We'll drive exceptional response with both the scale of impact you need, and continually optimizing your marketing performance with our advanced audience and contextual targeting capabilities.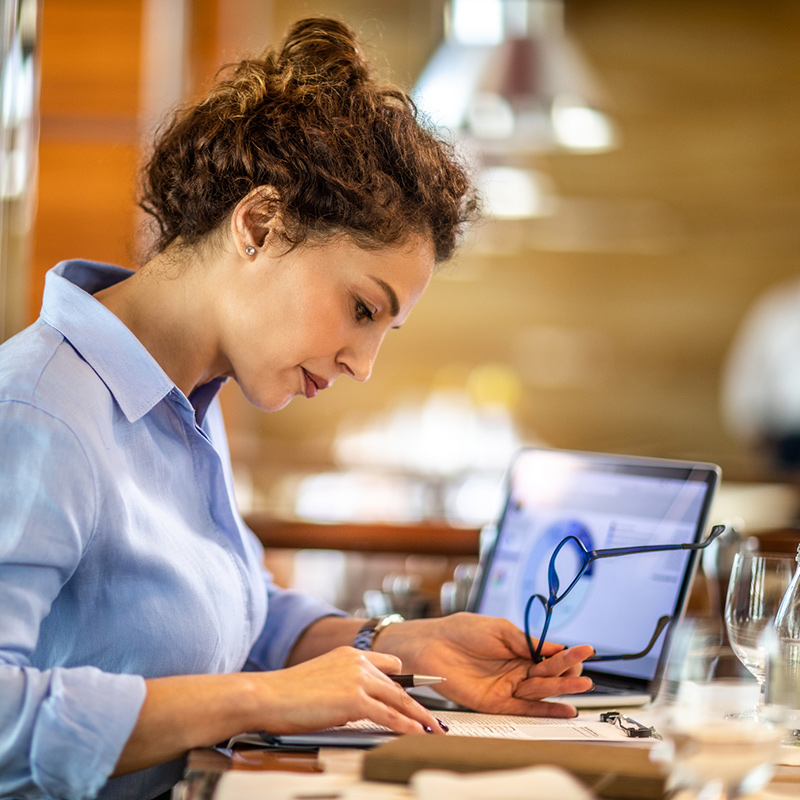 Get complete information about how partnering with the Globe Media Group builds your strongest connection to Canada.