This opportunity has passed.
Cannabis Decoded – Event Series
Sponsorship
Newspaper, Event
Ontario
Ad Close:
Wednesday September 12, 2018
Materials Due:
Monday May 27, 2019
Publication:
October 9, 2018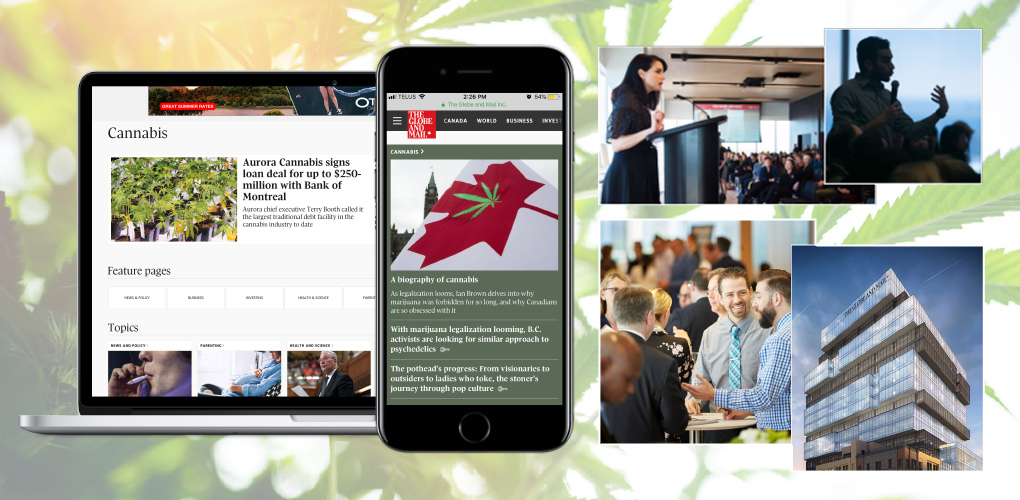 OWN THE CANNABIS CONVERSATION
With Canada on the cusp of legalized Cannabis, public sector agencies and municipal governments are scrambling to prepare for the impact, both positive and negative. Canada — as the first G7 country to legalize — will be a bellwether for countries considering legalization, and a lab for epidemiologists, crime specialists, public health leaders and policy makers around the world.
The Globe will snap the legalization issues into focus with the Cannabis Decoded event series, bringing top experts and analysts from the U.S., Canada and beyond. We'll unpack the issues and provide vital clarity for a diverse audience of political and business leaders and active investors – who are all seeking the balanced, informed view that The Globe provides.

Hosted at our world-class Globe and Mail Centre event venue in Toronto
Attracting a diverse audience of 200+ business, political and investing professionals
Featuring engaging keynote presentations
THE EVENT SERIES
Beginning in August – and continuing in October – we'll explore the priority issues, effects and opportunities across business, public health and safety, finance and investing, education and parenting, workplaces and municipalities.
August 22
What will (really) happen when Cannabis is legalized?
October 9
Cannabis and the workplace
How should employers reshape HR policy to cover legalized Cannabis? From claims of addiction to on-the-job-safety, we'll explore how to face many new challenges, like how to investigate potential impairment, and how to effectively communicate programs and policies to staff.
January 2019
Investing in Cannabis
April 2019
Cannabis business and branding
June 2019
Parenting and education in the age of legalized Cannabis
As Canada's most trusted news media brand, The Globe has quickly become the authority on Cannabis legalization and its potential impact on social, political, business, investing and lifestyle activity across our country.
Partner with us to own the Cannabis conversation and position your brand as a thought leader in this fast growing sector, increasing consumer awareness and consideration for your brand, and qualified leads for your business.