Globe Insiders is our audience intelligence panel where we reach out to readers for ongoing, real-time feedback and insights about:
Our content and their reader experience
Category insights and trends 
Advertising influence and effectiveness
With over 4,700 members, representing both our print and digital readers, Globe Insiders provide a rich demographic profile that facilitates targeted outreach for Globe research and client brand lift surveys. The panel is responsive and we typically see response rates between 35% and 45%.
Explore highlights from our recent studies below. For detailed information and insights, please contact your Globe representative, or the Globe Insiders team directly, using the information at the foot of this page.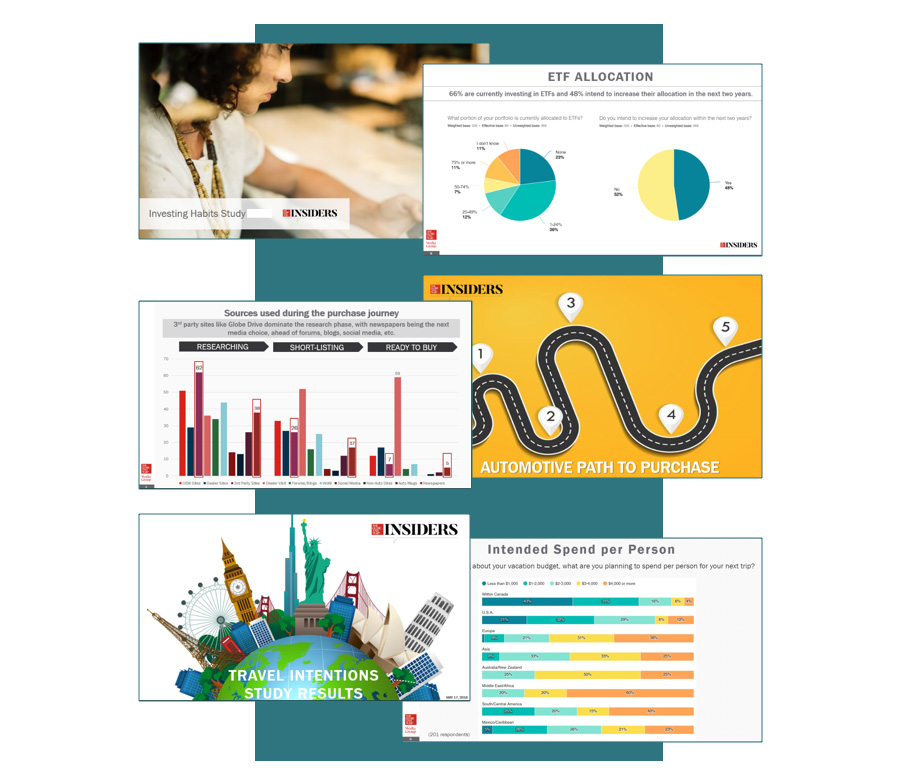 Our latest Globe Insider studies
We asked people across Canada how their needs for life's luxury products and services have changed, what types of purchases they've made and how they feel about shopping online, and in-store.
Explore our highlights to inform how you can respond to consumer needs, during the holiday season and into the new year.
It has been one year since the COVID-19 pandemic put the world into lockdown and changed our lives.
We first reached out to our Globe Insiders audience panel at the start of the pandemic, and have connected with them again, to learn how they have been impacted over the past year, what they are looking forward to, as we move toward a "new normal" and their views on brands and advertising. 
We reached out to the respondents from our initial COVID-19 survey, who had indicated that the current crisis was having a direct impact on their investments.
Learn about how they have been reacting to their personal finance challenges in detail, what actions they are taking, and what information and advice they are looking for.
After months of stay-at-home guidelines and travel restrictions, governments across the country are now initiating a process for re-opening. 
Explore how our readers are feeling, reacting and changing their behaviours, and specifically, their current plans for leisure travel.
We deployed a survey to our audience panel to gain insights into how Globe readers have adapted their shopping activities during the COVID-19 crisis and how they feel about shopping both online, and in-store.
Explore our highlights to inform how you can respond to consumer needs, as Canada moves through each recovery phase.
We've also completed recent Globe Insider studies on the following topics:
Luxury Auto Market
Automotive path to purchase
Luxury retail
Canadian fine jewelry
For more information from our studies or the Globe Insiders panel, please contact:
Get complete information about how partnering with the Globe Media Group builds your strongest connection to Canada.