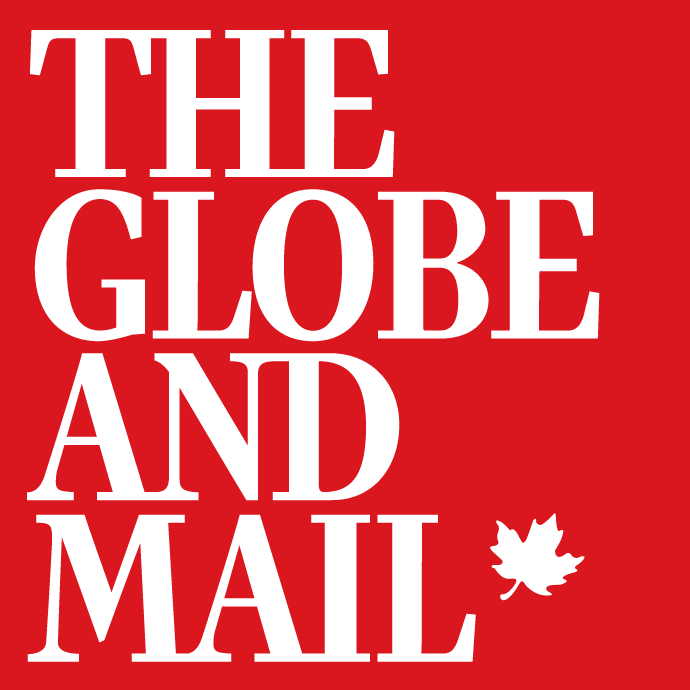 Even in the most challenging of times, The Globe's extraordinary journalism has remained consistently bold, courageous and uniquely influential across social, business and political life. It's why we are Canada's most trusted newspaper and essential resource for insight and perspective. At a time when quality journalism is needed more than ever, we proudly serve as your vital connection to the country.
Open today's paper, and you'll see how our innovative technology has created new ways of looking at the world. Designed for an audience who dedicate focused time with their Globe each day, our newspaper is skillfully designed by Sophi – our award-winning AI-powered audience insights system – this remarkable system allows us to focus our content where readers are most engaged, and advertisers are most seen – consequentially creating both broader audience reach and deeper engagement.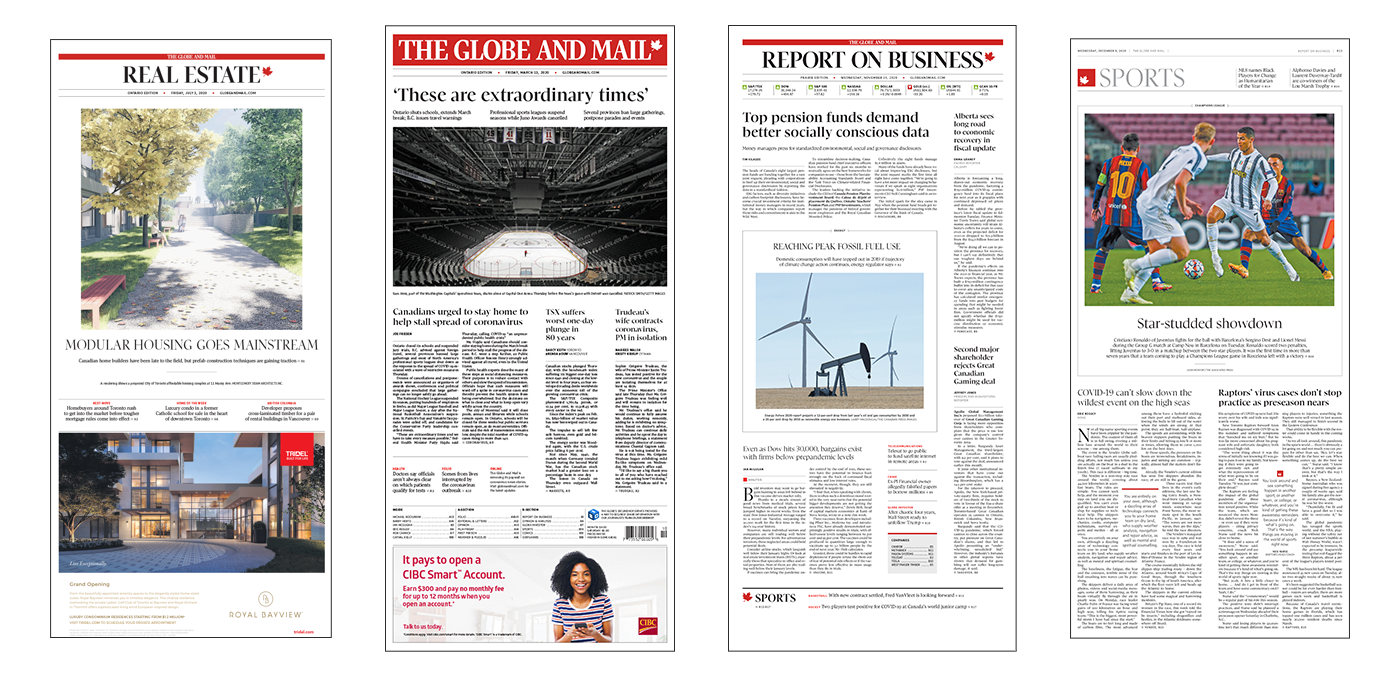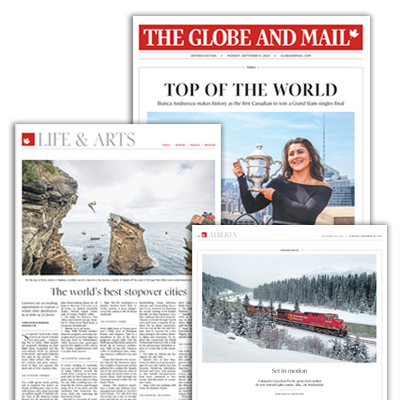 Reflecting the diverse interests of our audience, we deliver an engaging flow of stories and features in our most-read section.
News presents a captivating and richly visual mix of international, national and regional news – with dedicated Toronto and B.C. pages – along with lifestyle content, each day.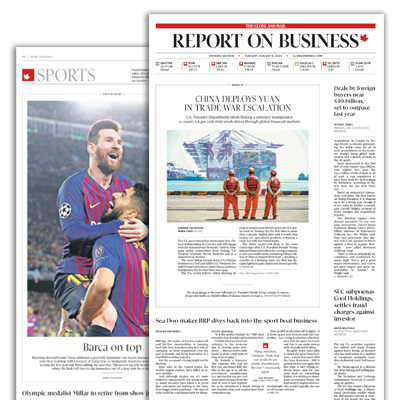 Engineered with a deep understanding of our audience to maintain our position as the pinnacle of Canadian business journalism.
On weekdays, we integrate Canada's best Sports coverage, ensuring we remain the premier choice to reach Canada's influencers.
Friday features our Real Estate section and standalone Special Reports.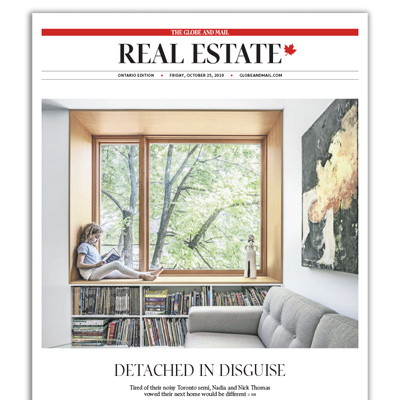 A National section with national and local features and a sharp design
Home and decor, design and architecture, mortgage/financing advice
Dedicated pages highlighting local market news
Reflecting the focused time our audience dedicates to reading over the weekend, our newspaper expands into four sections: News, Business, Opinion, Arts & Pursuits – our engaging weekly mix of lifestyle content.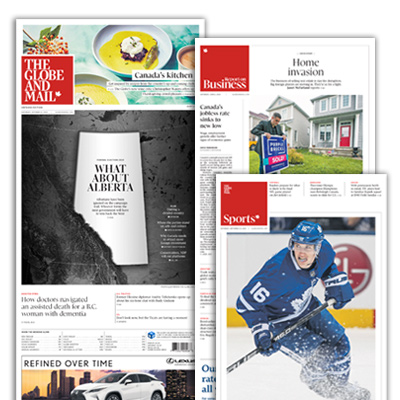 Our News, Report on Business sections reflect the focused personal time readers dedicate to reading over the weekend.
News features 8 glossy pages
Report on Business adds 8 glossy pages for our premium ad positions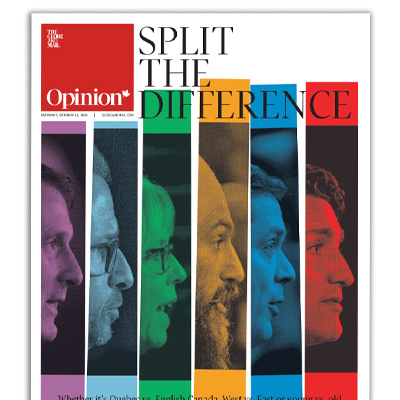 Opinion is our platform for deep analysis, insights and ideas for the world.
Highly popular, both in print and online, it's home for our authoritative columnists and the strongest opinions – in-depth editorials and reader letters – on the big issues for Canadians coast-to-coast.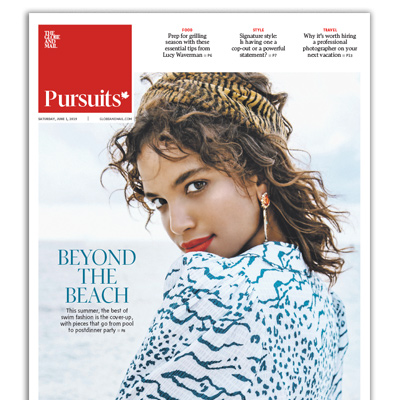 Our readers have a wealth of interests, passions and obsessions – and they want to feed these interests and to be inspired by new ones.
Each weekend, we present them with a vibrant mix of Style, Fashion and Beauty, Home Decor, Travel, and Food and Wine, along with in-depth Arts, Books and entertainment coverage.
Create innovative, high-impact content marketing programs
Strengthen the relationship between your brand and your customers, using our unmatched journalism to drive business results across print, digital and events.
Leverage our data-driven insights and creative capabilities to position your brand at the centre of world-class content and at the heart of Canada's most influential audiences.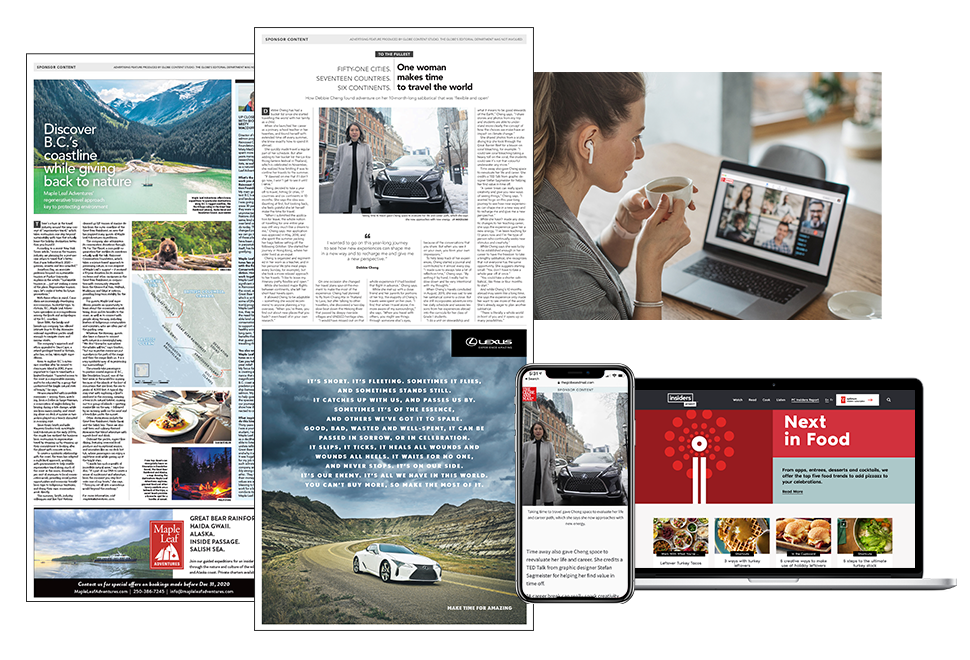 Multi-Sponsor Features
Throughout the year, The Globe publishes a range of engaging editorial Special Reports and advertorial Content Features and series, that deliver contextually targeted connection to your ideal audiences in print and online.
With a pre-planned schedule, and delivered in our News and Report on Business sections, Monday to Thursday, and as standalone sections on Fridays, they're powerful, turnkey platforms for B2B and B2C marketers to align with, or be integrated into, Canada's most engaging content.
Globe Inserts
The Globe newspaper is the ideal distribution channel to connect with our influential, affluent and responsive audience.
Present your message in distinct, stand-alone marketing products and distribute to our national circulation or select regions.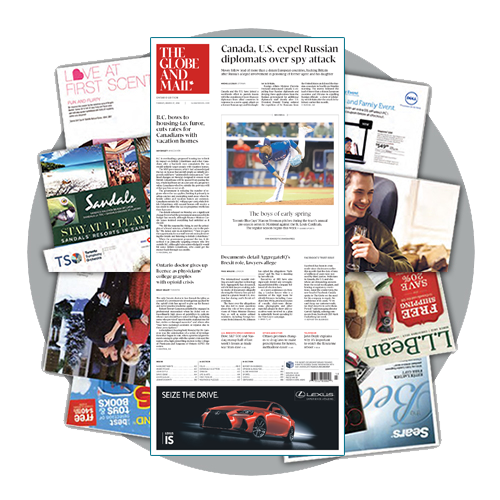 Advertising specifications
Get all the details you need to create great advertising
Looking for creative inspiration? Ready to build your ads?
Please explore our production specifications, before you do.
Get complete information about how partnering with the Globe Media Group builds your strongest connection to Canada.